A new Boulevard for Lisbon
Eine neue Allee für Lissabon
Campo Mineral
EUROPAN 10 |  European Architecture Award for Young Architects, 1° Prize
Odivelas (Lisboa), Portugal 2010
Urban Plan and Building Design | Städtebauliche Konzeption und Gebäudeplanung
12 Ha  | 350 Apartments/Wohnungen
Für die Stadt Lissabon funktioniert das Projekt wie ein großer Windkanal, der hilft die Luft in der Stadt zu erneuern, und damit die Luftverschmutzung gering zu halten. Dabei werden die vorüber treibenden Luftmengen zusätzlich durch Verdunstungskälte der Wasser-rückhaltenden Bodenbeläge gekühlt und wirken im Sommer der Überhitzung entgegen. Der asymmetrische Aufbau der Straße ist auf einer Seite rationell optimiert, auf einer geraden Linie sind hier Hotels, Verwaltungs- und Wohngebäuden aufgereiht. Zur anderen Seite befinden sich jedoch öffentliche Einrichtungen der Universität, Läden und Plätze, die sich entlang einer behausten Stützmauer schlängeln. Hier findet mit einem angenehmen Mikro-Klima das öffentliche Leben statt.
On a larger scale the project acts as an urban ventilator for Lisbons air pollution by re-channeling existing winds through the new boulevard and reducing the summer heat stress through the evaporative cooling of the humidity retained in the porous surfaces. On a smaller scale, the project is composed of social housing, community amenities, and distinct pocket plazas set back from the avenue and nestled in the "urban wall," disrupting the linear geometry. Informed by seasonal variations, airflow, and solar orientation, each plaza is home to cooling trees and public seating. The material identity of the project is directly informed by both Lisbon's common stone and the sandy loam strata. The limestone ground and façade cover appear as a creamy, sometimes glimmering, landscape. This porous material and the gaps its application allows for percolation, the retention of water reducing storm water run off, and promotes thermal comfort in the outdoor space due to its thermal mass and high solar reflectance index (SRI-lighter color). The "off grid" path along the valley and expansive length of the boulevard creates a continuous threshold condition, offering the possibility to work with flux and changes, while providing a large scale infrastructural connection for the city
Team:
Mark Sangiorgi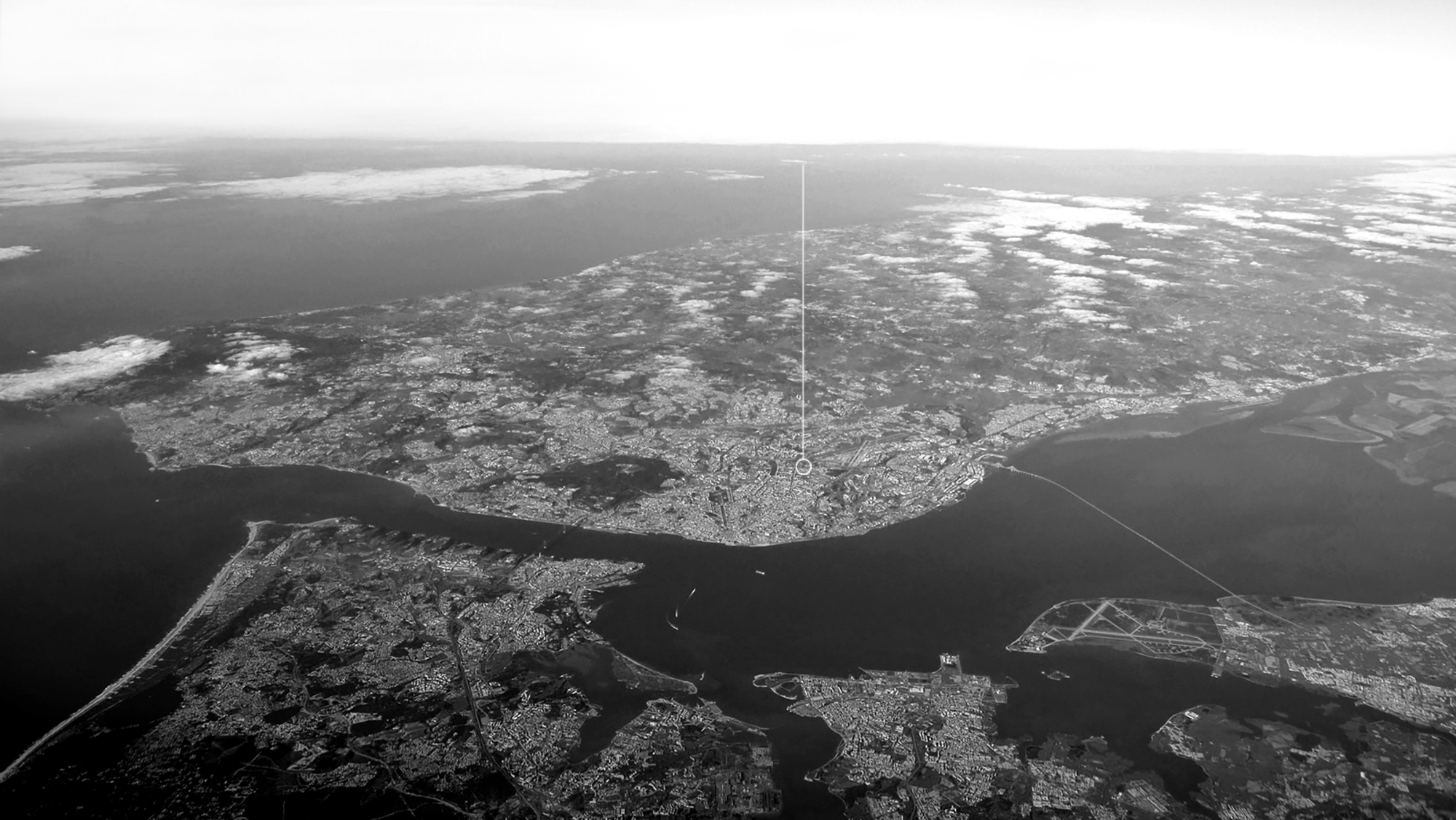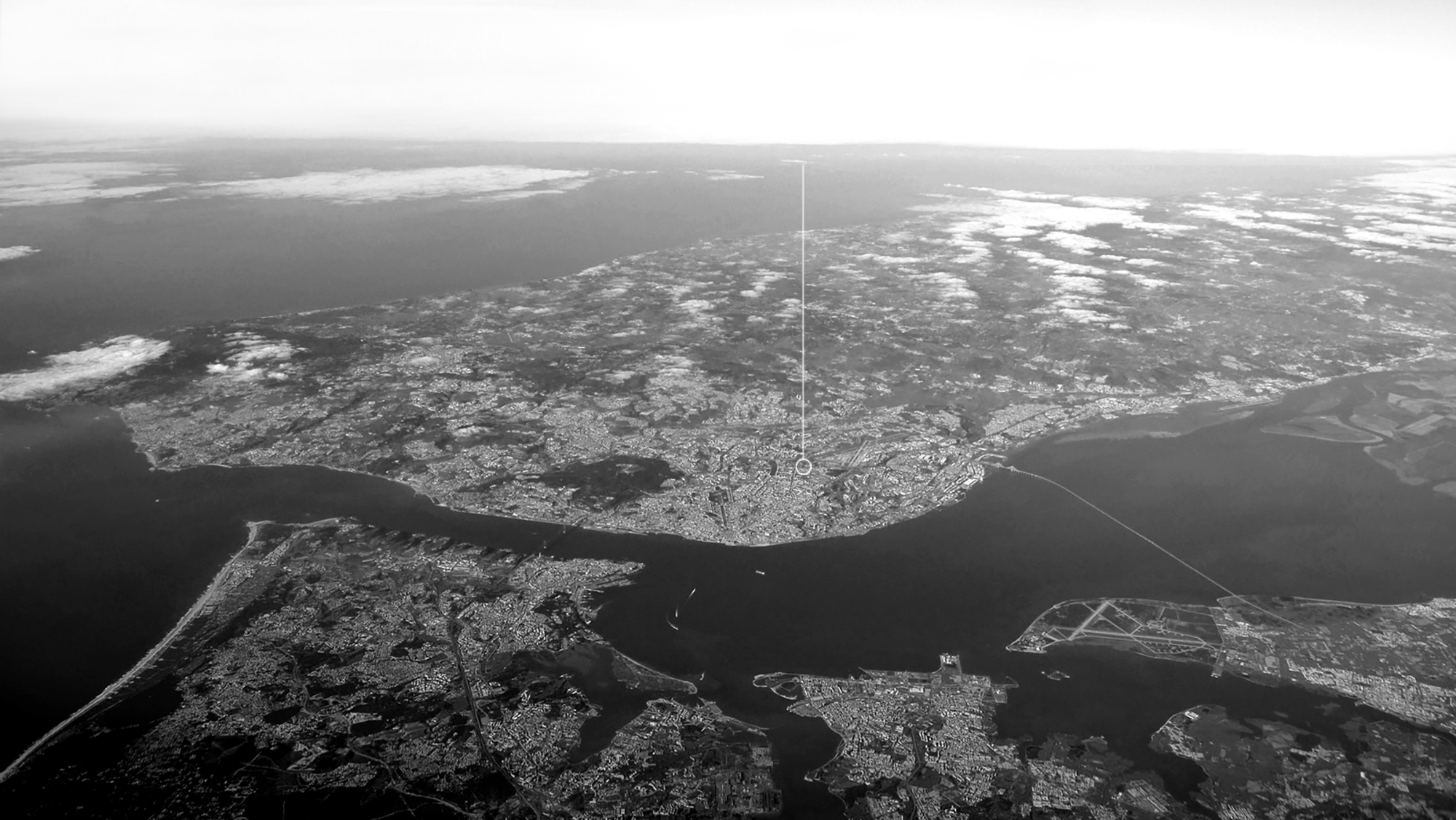 Lisbon's Campo Mineral,  Wind Annotation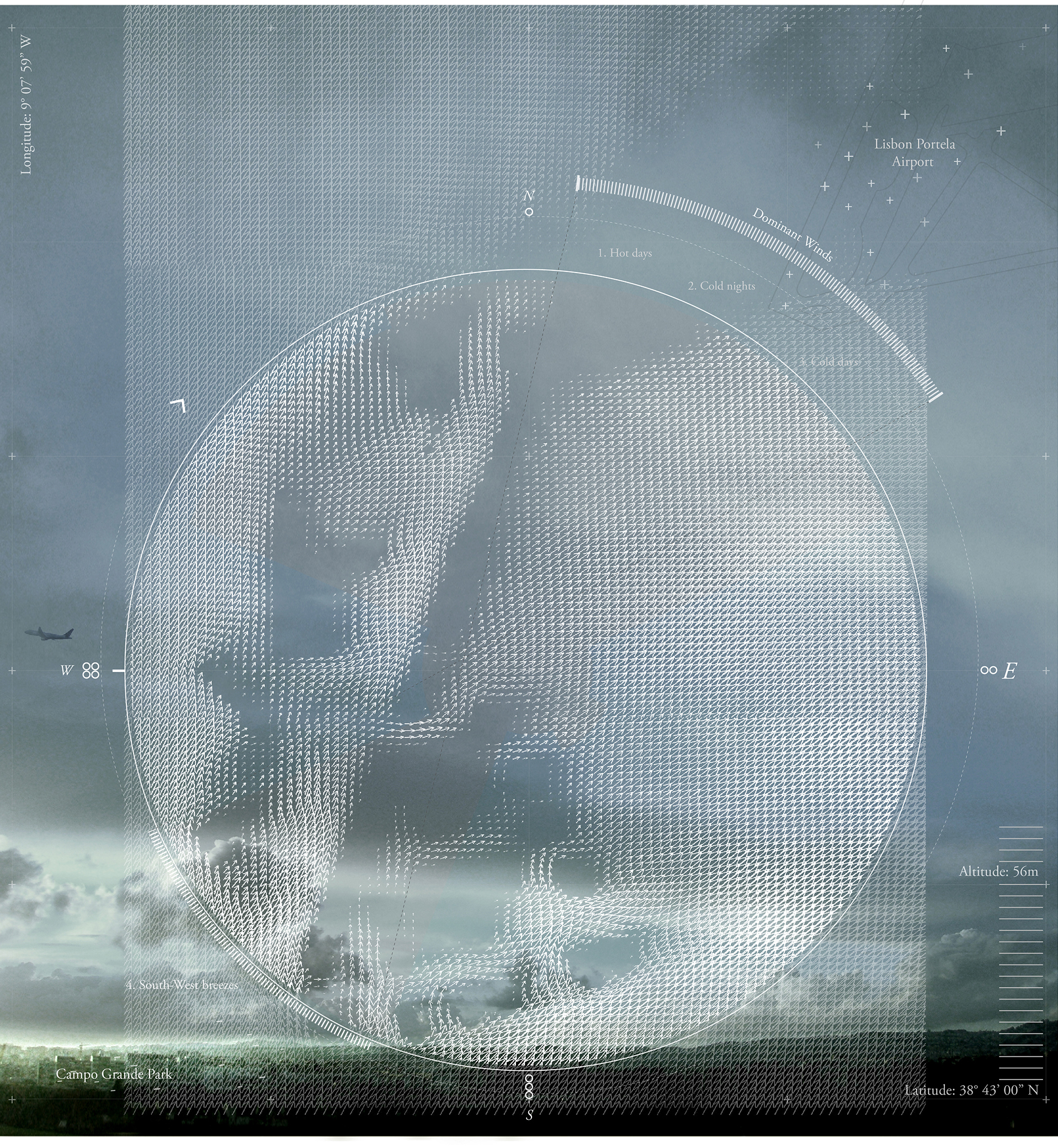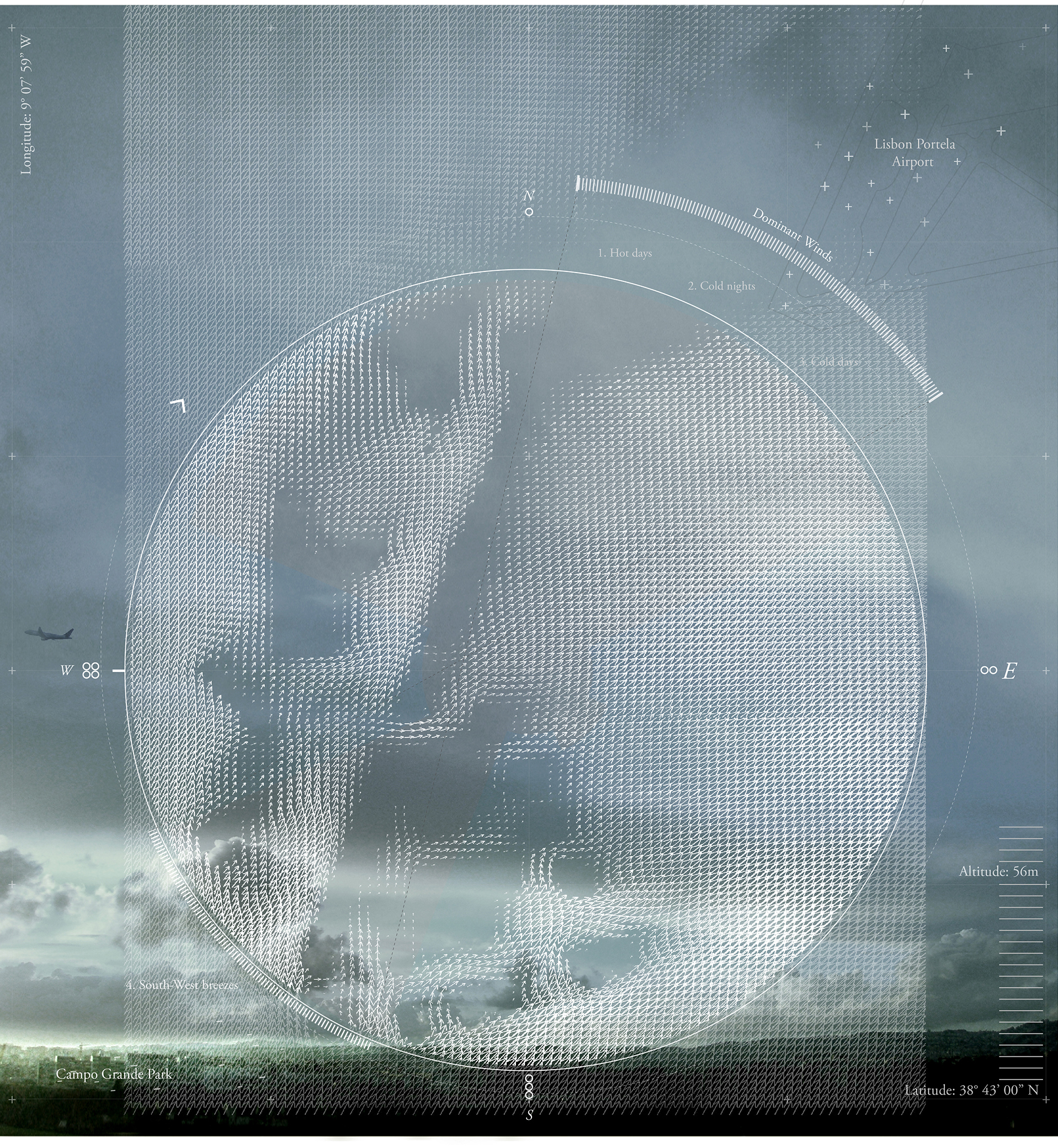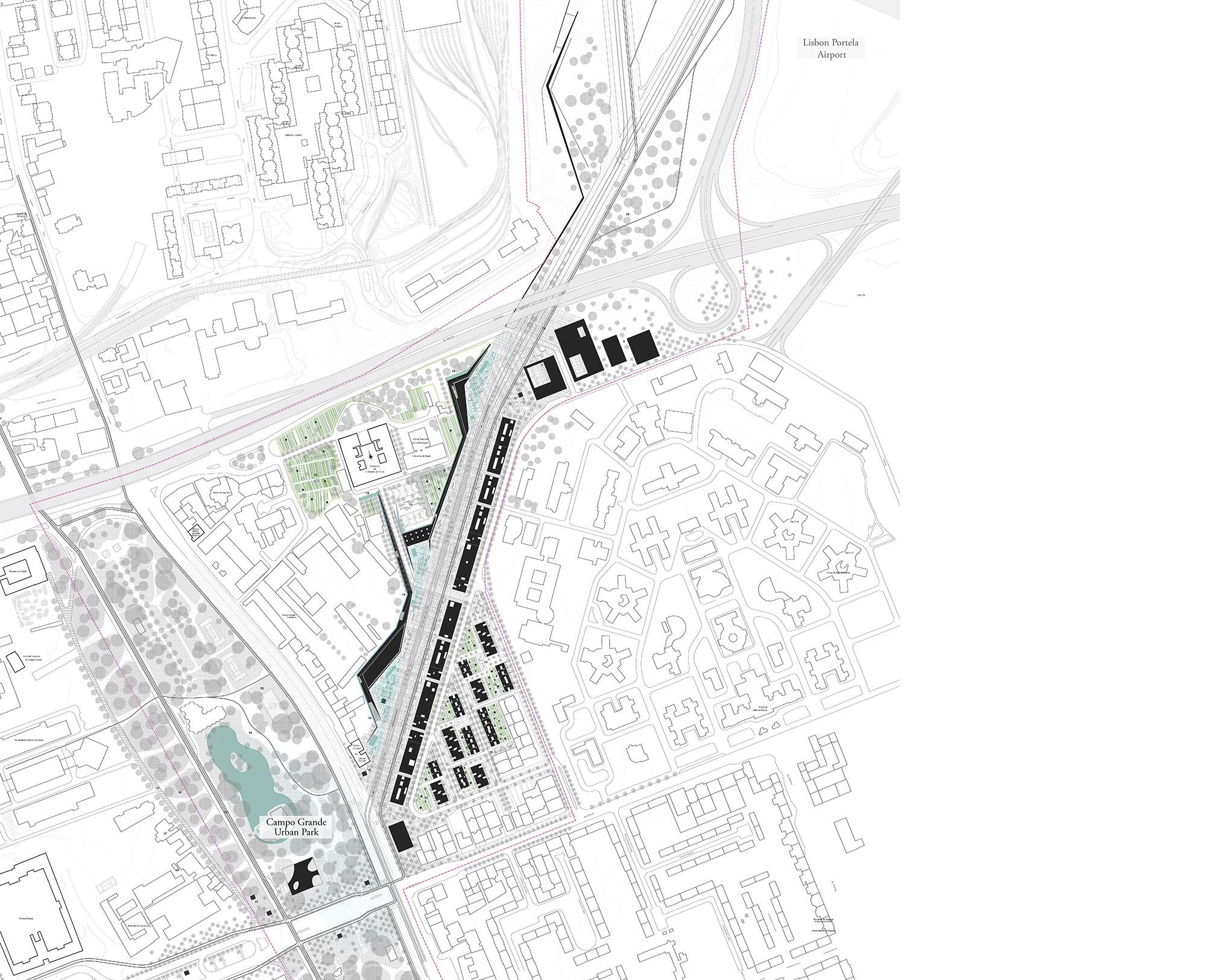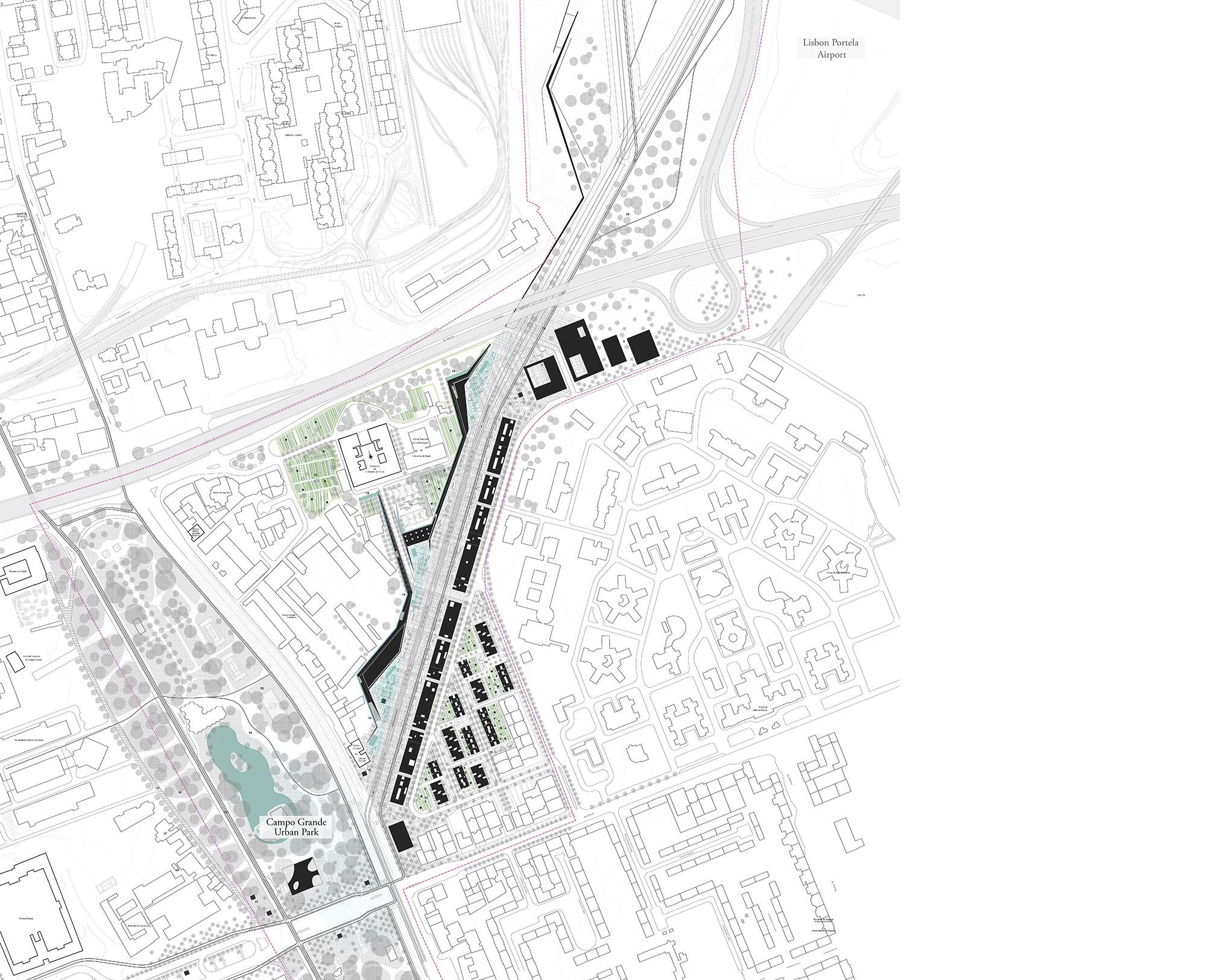 Die Website ist ein Klima- Schwelle entlang der Nord-Süd- Richtung . Es verbindet zwei verschiedene Landschaftsumgebungen und thermischen Bedingungen , wie zum Beispiel zum Flughafen (heiß und windig) und dem Stadtpark (feucht und schattig) . Die thermodynamischen Polarisierung zwischen verschiedenen Sonnenstrahlung , Windgeschwindigkeiten , Oberflächeneigenschaften und Albedo -Werte , ist eine Chance für die Stadt. Die bestehende thermodynamischen Spannung wird verstärkt und geformt als Informant der räumlichen , programmatische , bürgerlichen und ästhetischen Qualitäten des Projekts. Die Schwellenbedingung bietet die Möglichkeit, mit Fluss und den Austausch innerhalb der meteorologischen Phänomene wie Konvektion, Leitung , Verdunstung und Reflexion zu arbeiten. Die Nord-Süd- Korridor wird innerhalb des bestehenden Block und eine Reihe von Freiflächen erzeugt die Vorteile der neuen atmosphärischen Landschaft zu nehmen umgesetzt.
The site is a climatic threshold along its north-south direction. It connects two different landscape environments and thermal conditions, such as the airport (hot and windy) and the urban park (humid and shady). The thermodynamic polarization between different solar radiation, wind speeds, surface properties, and albedo values, is an opportunity for the city. The existing thermodynamic tension is amplified and sculpted as informant of spatial, programmatic, civic and aesthetic qualities of the project. The threshold condition offers the possibility to work with flux and exchanges within the meteorological phenomena such as convection, conduction, evaporation and reflection. The north-south corridor is implemented within the existing block and a series of outdoor spaces are generated to take advantage of the new atmospheric landscape.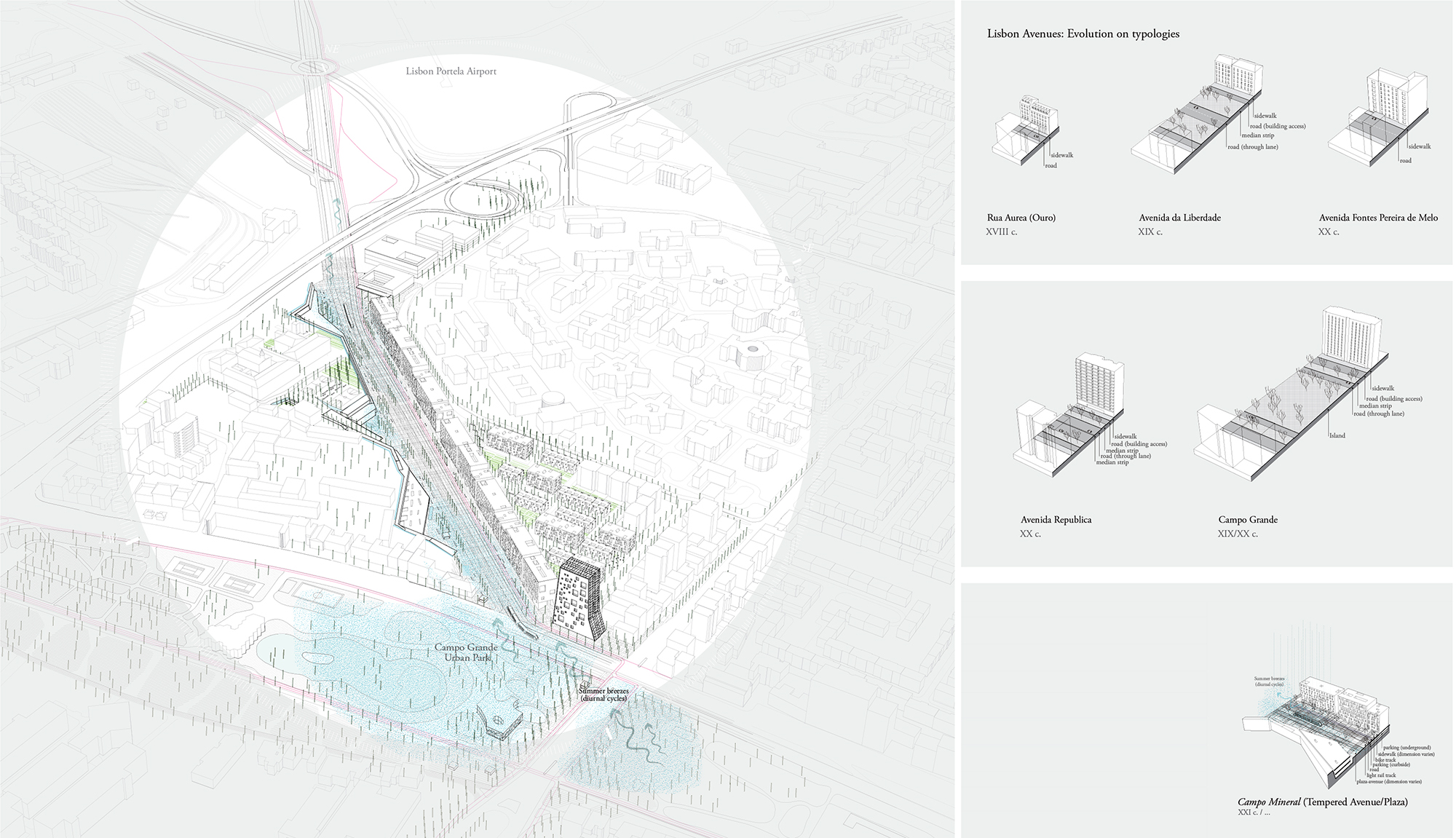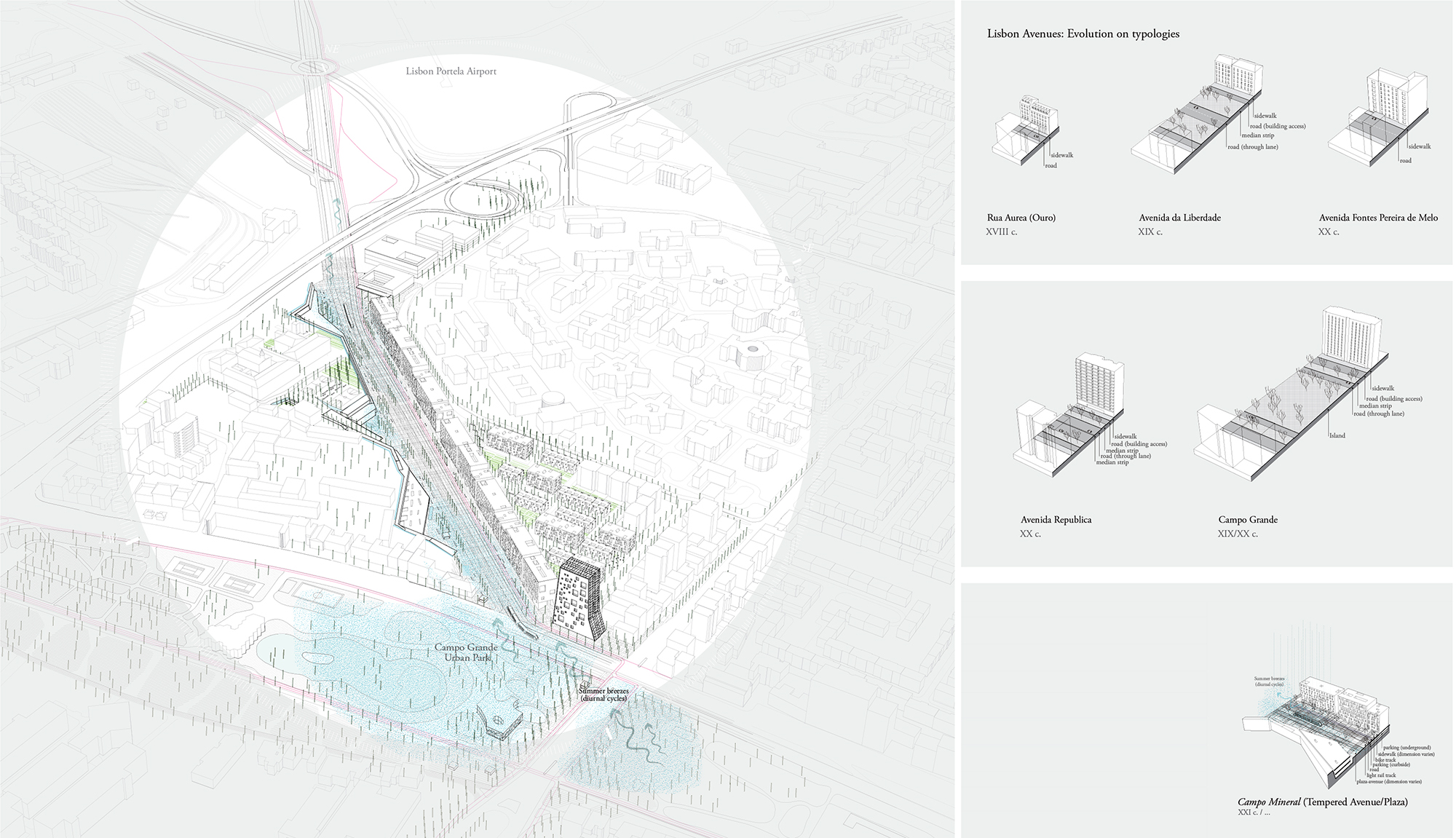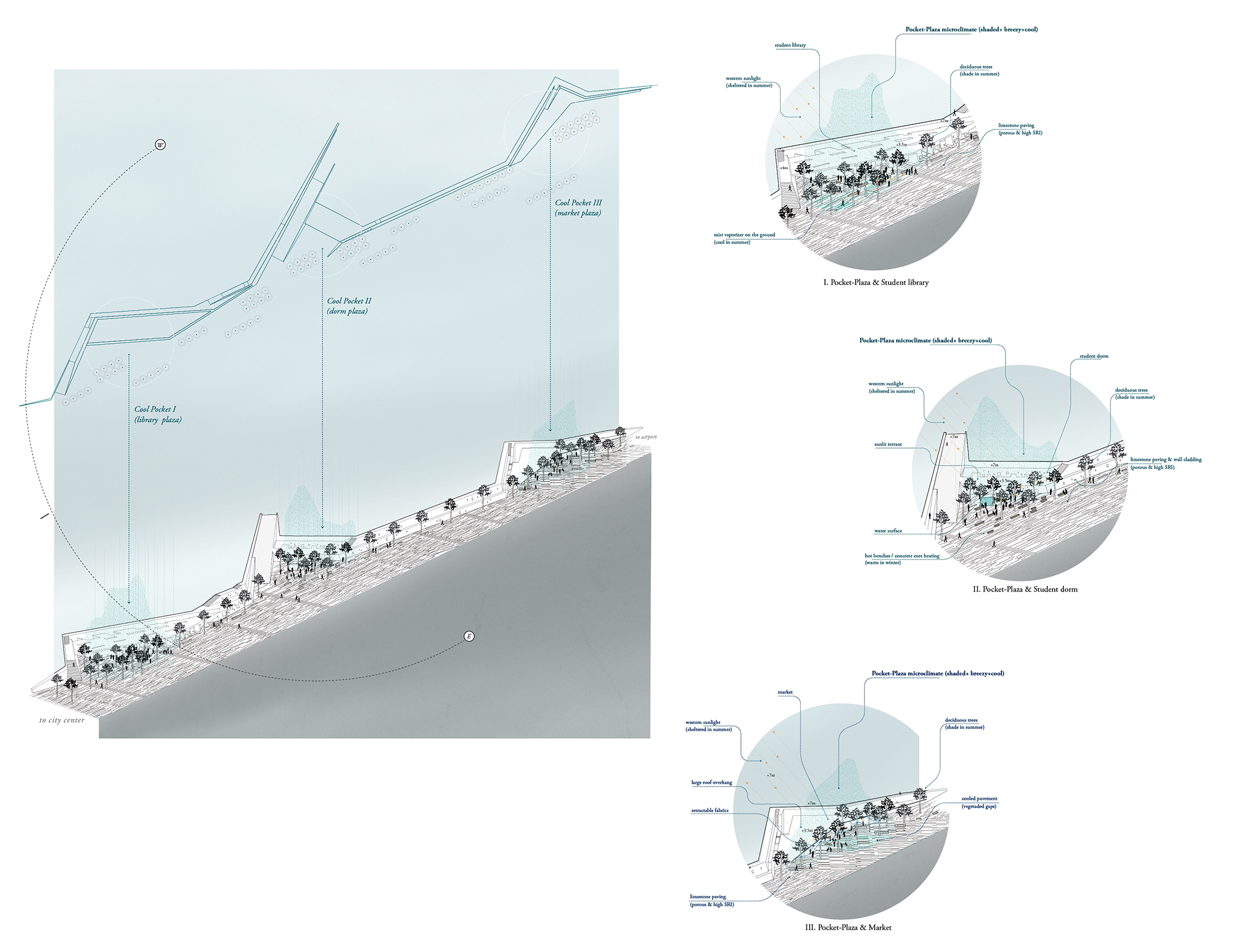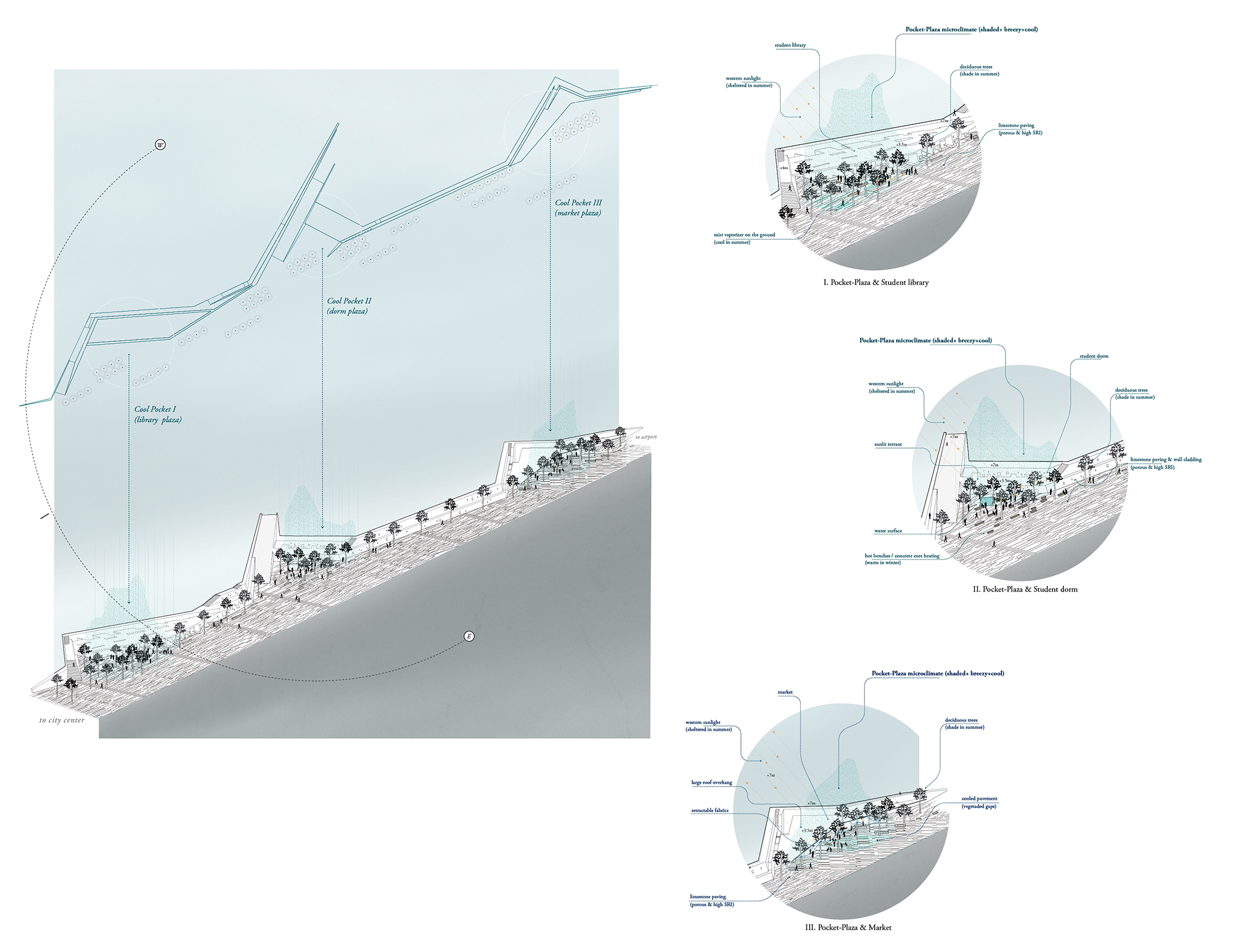 Die Allee ist asymmetrisch als Folge der klimatischen Denken im Maßstab der Bewohner und Besucher. Während die neue Straße in der Stadt Skala als Klima Schwelle arbeitet (für Windkanal), die drei Pocket-Plätze entlang seiner Länge bieten kleineren und komfortable Bürger Plätze für im Laufe der Jahreszeiten zu sammeln. Angrenzend an den wichtigsten Annehmlichkeiten entlang der Gebäudewand auf der Westseite des Avenue- der Studenten Bibliothek, Studentenwohnheim, und Marketing die taschen Plätze werden als Störungen der linearen Geometrie geformt.
The avenue is asymmetric as a result of climatic-thinking at a scale of the inhabitants and visitors. While the new avenue operates as a climatic threshold at the city scale (for wind channeling), the 3 pocket-plazas along its length provide smaller and comfortable civic places for gathering throughout the seasons. Adjacent to the main amenities along the building-wall on the west side of the avenue- the student library, student dorm, and market- the pocket-plazas are sculpted as disruptions of the linear geometry.