together in freedom and unity
zusammen in Freiheit und Einheit
Statue of Unity
Competition, Freedom and Unity Memorial in Berlin, 2009
Das Einheitsstatue-Denkmal in Berlin, eine Zusammenarbeit von Alexander Häusler und dem Bildhauer Martin Wöhrl, bringt eine klar verständliche Symbolik mit einem starken Raumerlebnis zusammen, indem es die Staats- und Landesgrenzen Deutschlands vor und nach dem Mauerfall als Umrisse einzelner Geschosse zur Erinnerung an die Wiedervereinigung verwendet. Eine nachhaltige städteräumliche Präsenz erreicht es mit seinen 42 Metern Höhe, die von Innen zugänglich sind. In unmittelbarer Nähe zu Schinkels ehemaliger Bauakademie und dem Berliner Schloß im rekonstruktiven Wiederaufbau, wird es zum Teil der Berliner Skyline. Ins Innere wird die Aufmerksamkeit der Menschen entlang der nachgezogenen Grenzverläufe in Richtung Licht und Natur gezogen, durch Öffnungen, Aussichtsplattformen und der hellen Öffnung ganz oben. Der fast sakrale Raum lädt zum Verweilen und zum Reflektieren ein, sich an verschieden Stationen zur Geschichte der Freiheit und Einheit Deutschlands zu informieren, das städtische Leben der Umgebung zu beobachten oder einfach die Faszination der Räume und Lichtverhältnisse zu erleben, welche ein Gefühl von Freiheit und Gemeinschaft vermitteln.
The Statue of Unity monument in Berlin, a collaboration between Alexander Häusler and the sculptor Martin Wöhrl, combines a clear easily understood Symbolic with a strong spatial experience by using the very borders and boundaries of Germany's states as planning lines to commemorate its re-unification. An enduring urban presence is achieved with is a 42 meter high accessible structure adjacent to the former design school of Schinkels (Bauakademie) and Berlin's Castle in reconstruction, becoming a part of Berlin's skyline. The interior draws people in along redrawn boundaries towards light and nature, creating viewing platforms and a bright skylight. The near sacred space created within invites visitors to stay and reflect, to engage information stations, observe the surrounding fluctuating urban context or simply experience the intriguing spatial and light conditions that convey a sense of freedom and companionship.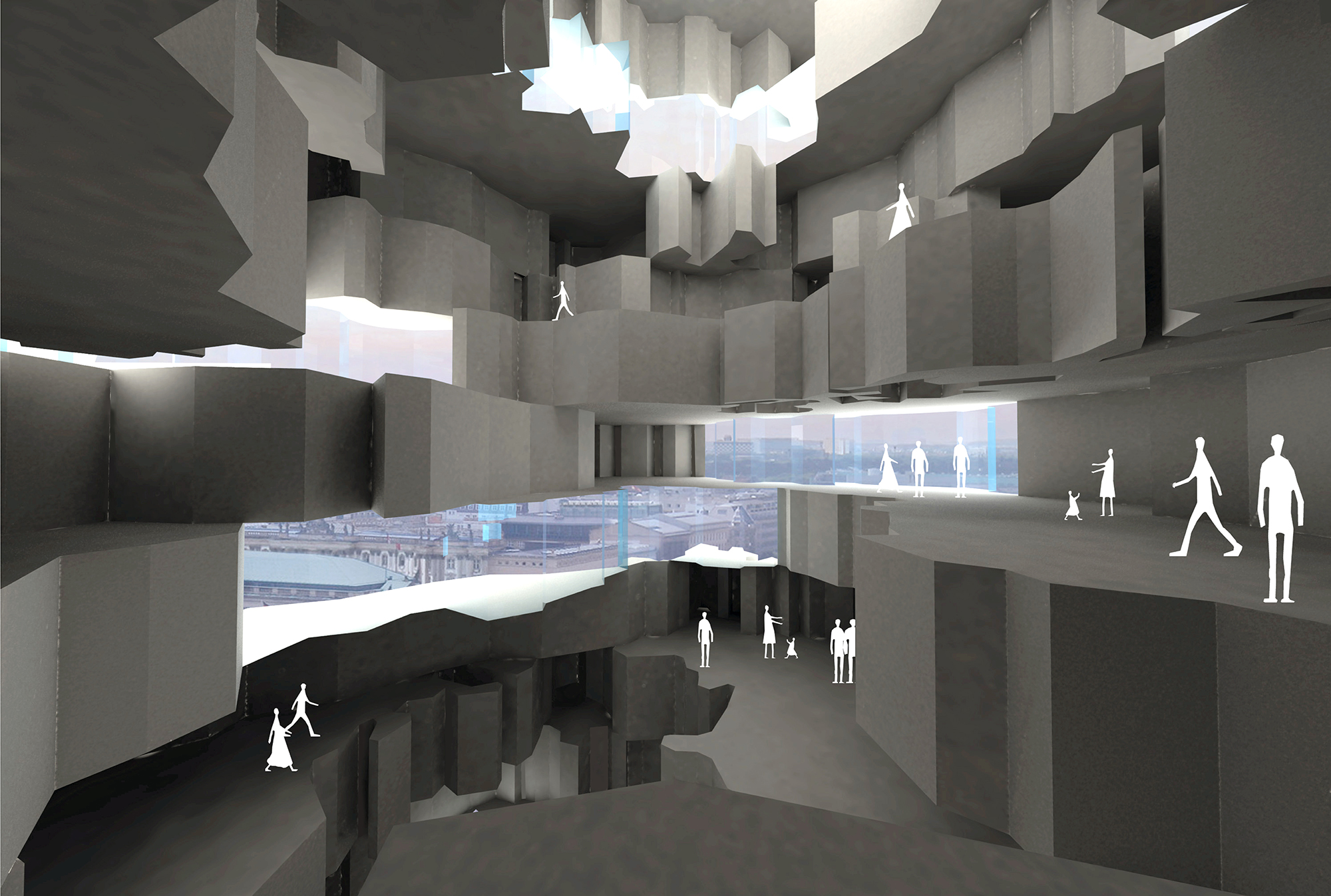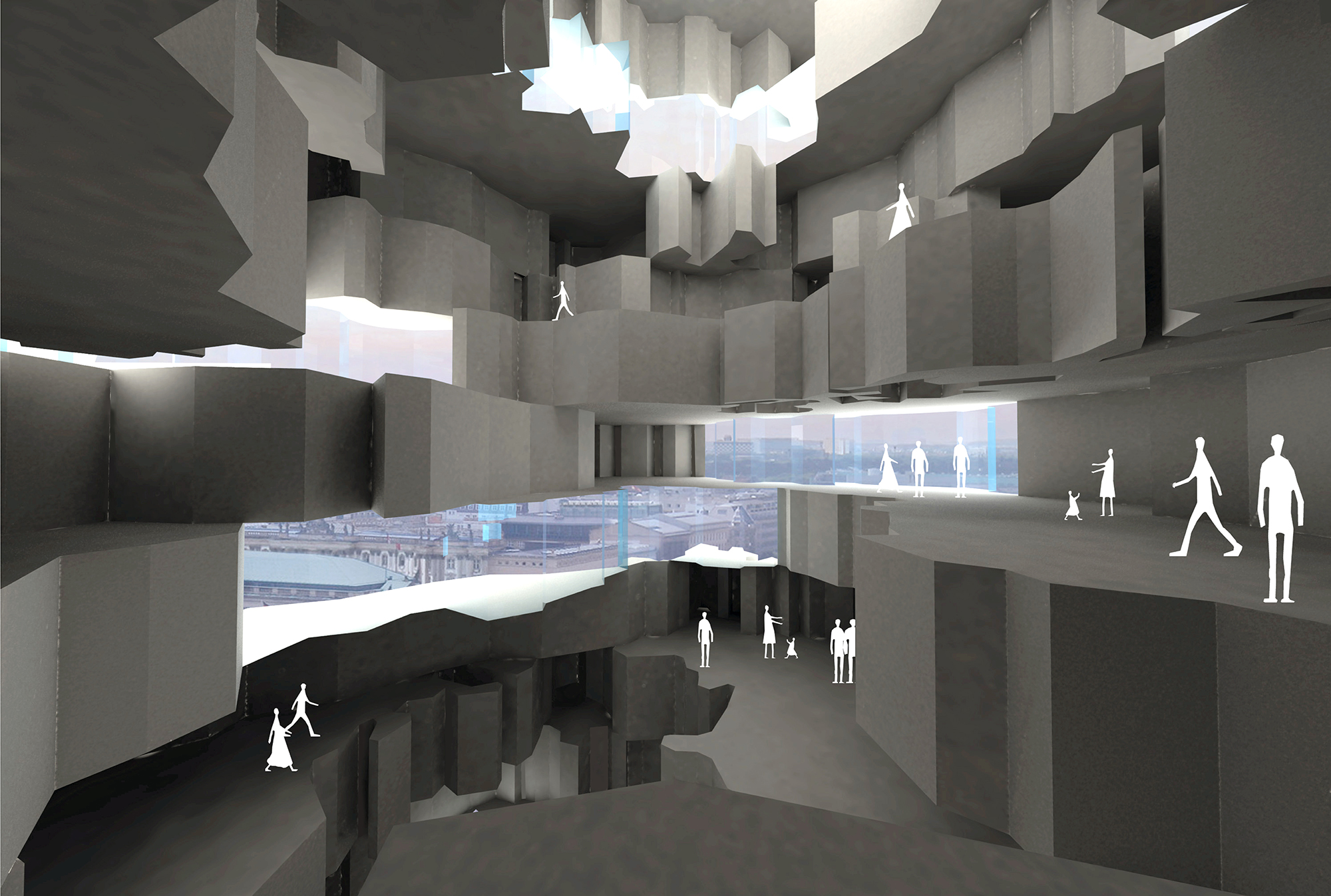 Der Wettbewerb für das Freiheits- und Einheitsdenkmal in Berlin suchte eine symbolische Form, um den friedlichen Wandel der Maueröffnung 1989 zu gedenken. Dieses außergewöhnlich starke und friedliche Ereignis erforderte eine abstrakte Form mit heroischer Präsenz. Geologische Sedimente bezeugen Geschichte - nach diesem Prinzip werden die geographischen Konturen der Bundesrepublik Deutschland räumlich extrudiert und aufeinander gestapelt. Die Grenzen sind eine Inschrift der vielfältigen europäischen Kriege und die Vielzahl der kleinen Staaten, die in der gesamten deutschen Geschichte existierten. Deutschlands Zeugnis von seinen Kriegen, darunter 40 Jahre des Kalten Krieges und der deutschen Trennung. Die Mauer, die zuvor das Land unüberwindlich durchtrennte, signalisiert in der Umsetzung der Einheitsstatue Offenheit, Freiheit und bietet Ausblicke.
The competition for the Freedom and Unity Memorial in Berlin was looking for a symbolic form to commemorate the peaceful changes of the Opening of the wall in 1989. This exceptionally strong and peaceful event required an abstract form with heroic presence. Geological sediments witness history - following this principle the geographic outlines of the states of the Federal Republic of Germany are spatially extruded and stacked upon each other. The borders are an inscription of the multiple European wars and the multitude of small states that existed throughout German history. Germany's border(line)s witness and attest to its wars, including 40 years of Cold War and German separation. The wall, previously carving through the country, is inverted in the design, becoming the points of openness, where outlooks and windows are situated.