living in the forest
Wie im Wald Wohnen
GWG New Residential District
Competition, Ingolstadt, Germany, 2014
"Zwischen Bäumen" liegt ein neuer Wohnbezirk mit 180 Wohnungen unterschiedlicher Typologien und Größen, die inmitten einer Vielzahl von Landschaftstypen positioniert sind, damit Kinder spielen und Familien ihre Freizeit genießen können. Während die meisten Wohnungen für Familien mit niedrigem Einkommen, Sozialwohnungen, sind (ca. 80%), werden die verbleibenden Wohnungen zu Marktpreisen angeboten. Das Grundstück richtet sich zur Donau und ihrem Auenwald aus. Anstatt die Gebäude entlang den Straßen auszurichten, schafft die vorgeschlagene Planung eine Reihe von langen Höfen, die senkrecht zu dem bestehenden Wald liegen. Diese städtebauliche Anordnung greift die dichte Flusslandschaft auf (verlängert in den Innenhöfen mit einer neuen dichten Baumbepflanzung) und erlaubt, dass der  vorherrschende Wind kontrolliert zu den einzelnen Wohnungen gelangt. Diese Ausrichtung erleichtert die Belüftung der Innenräume und schützt gleichzeitig die Innenhöfe, damit diese auch in den Wintermonaten verstärkt genützt werden können. Die Wohnungen sind E-W orientiert und haben zum Westen private Gärten.  Das Wohnzimmer und die Küche haben einen Zugang zum Garten, wo die Nachmittagssonne bis zum Sonnenuntergang in die Wohnung scheint und die Freuden des Lebens mit der Natur bringt. 
Between trees is a new residential district with 180 apartments varying in typologies and sizes set amongst a variety of landscape types for children to play and families to enjoy their free-time. While most of the apartments are for low-income families (approx. 80%), the remaining housing in the proposal is at market rate. The site faces the Danube River and the alluvial forest. Rather than aligning the development parallel to the streets, the proposal generates a series of long courts perpendicular to the existing forest. This siting strategy engages the thick fluvial landscape (extended into the inner courts by the addition of a new substantial tree canopy) and exposes the apartments to the prevailing breezes from the West. This exposure facilitates aeration of the domestic areas and, simultaneously, shelters the inner courts for an increased use of the community during the winter months. The apartments face E-W and have private gardens to the West. Attached to these gardens, both the kitchen and living rooms extend their areas with the corresponding access to the sunset exposure and the pleasures of living in the outdoors. 
Team:
David Birge, Velania Cervino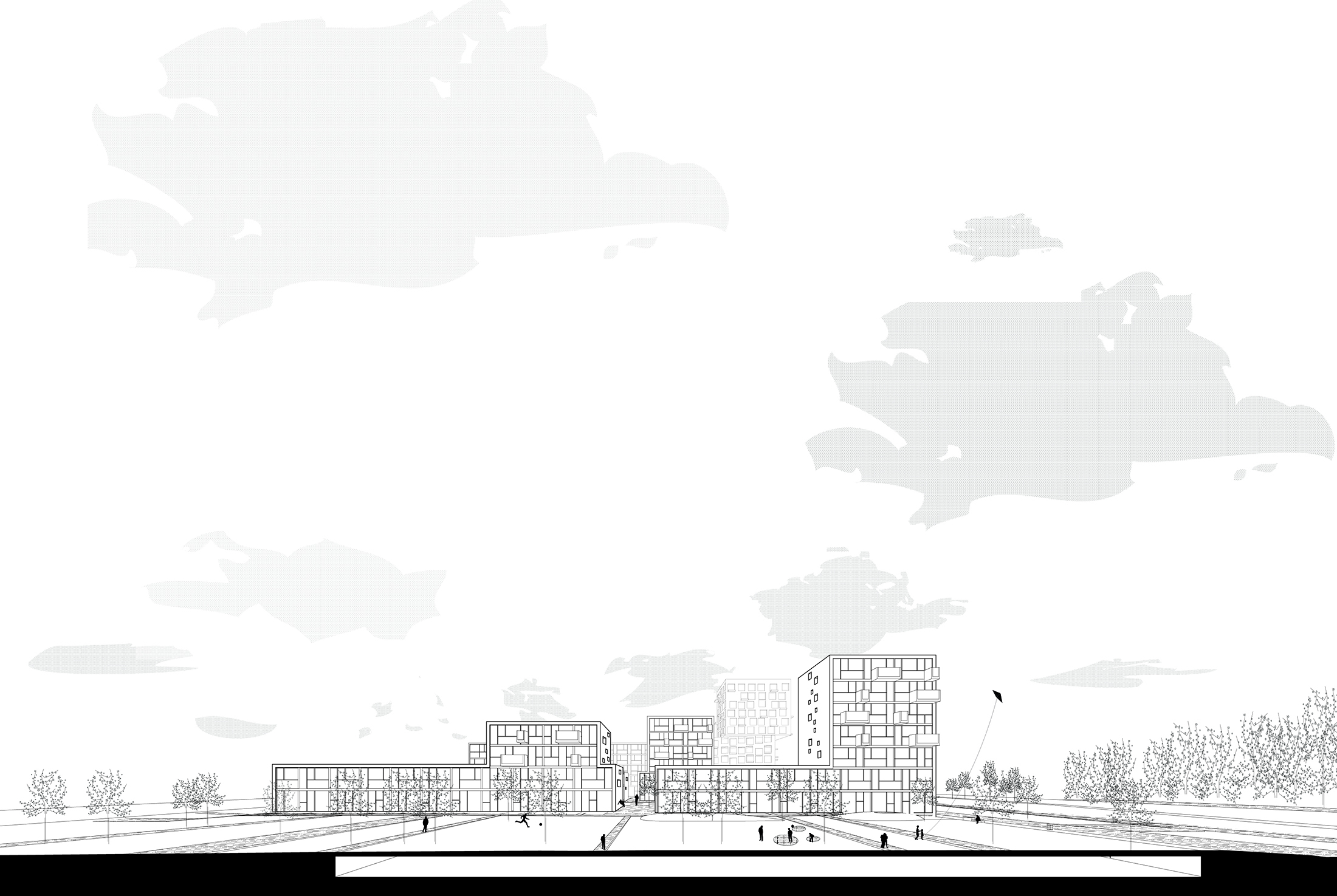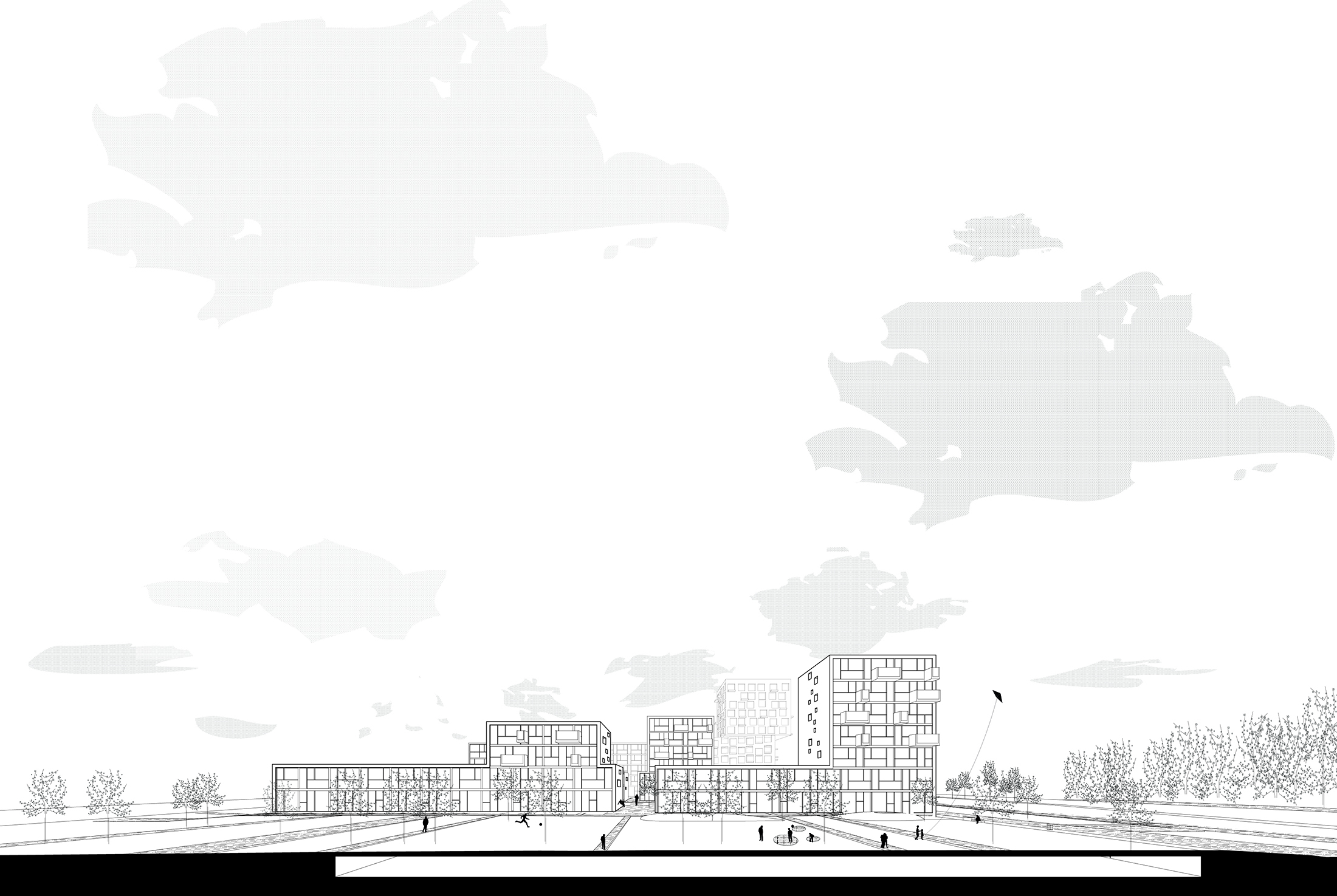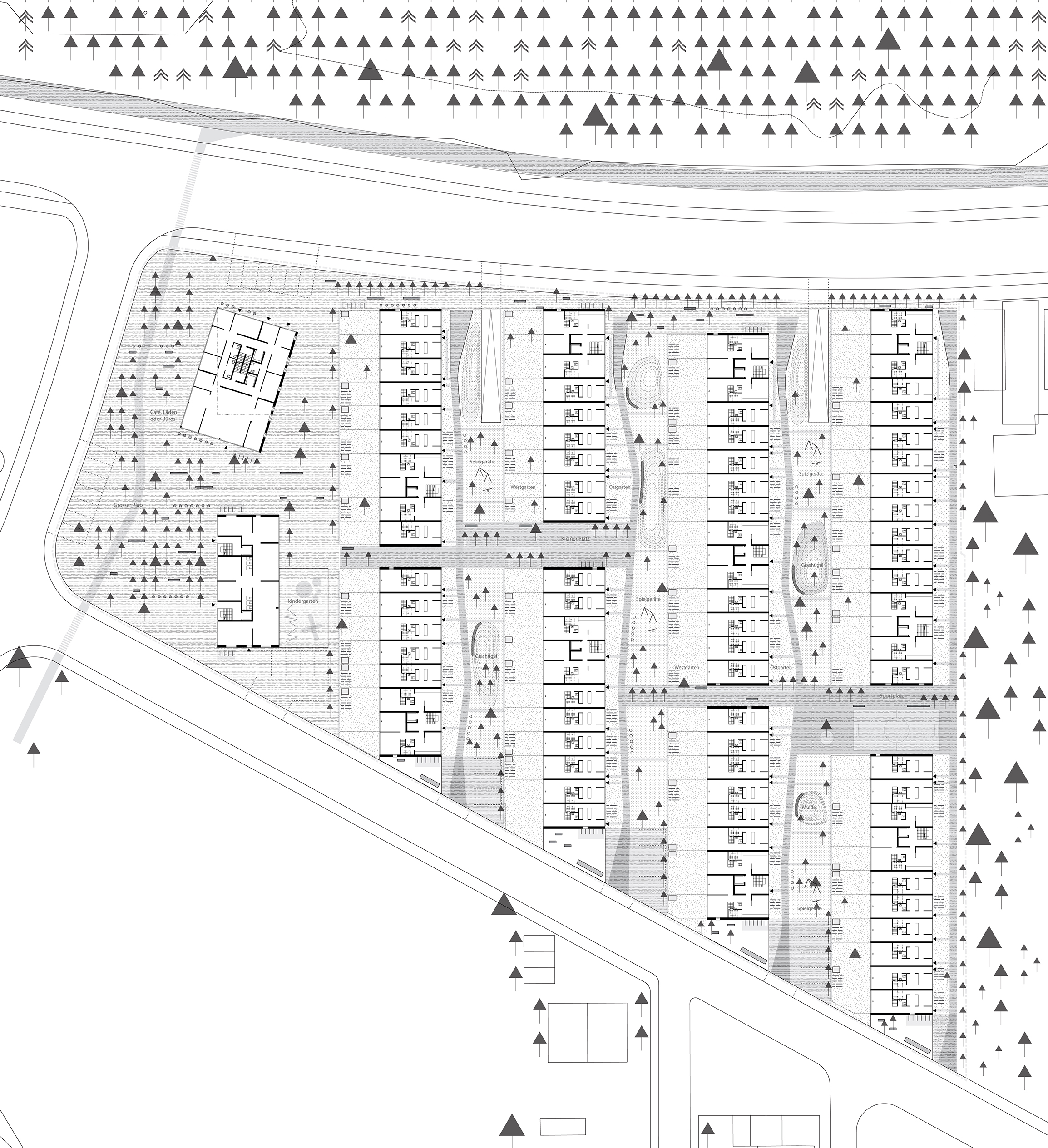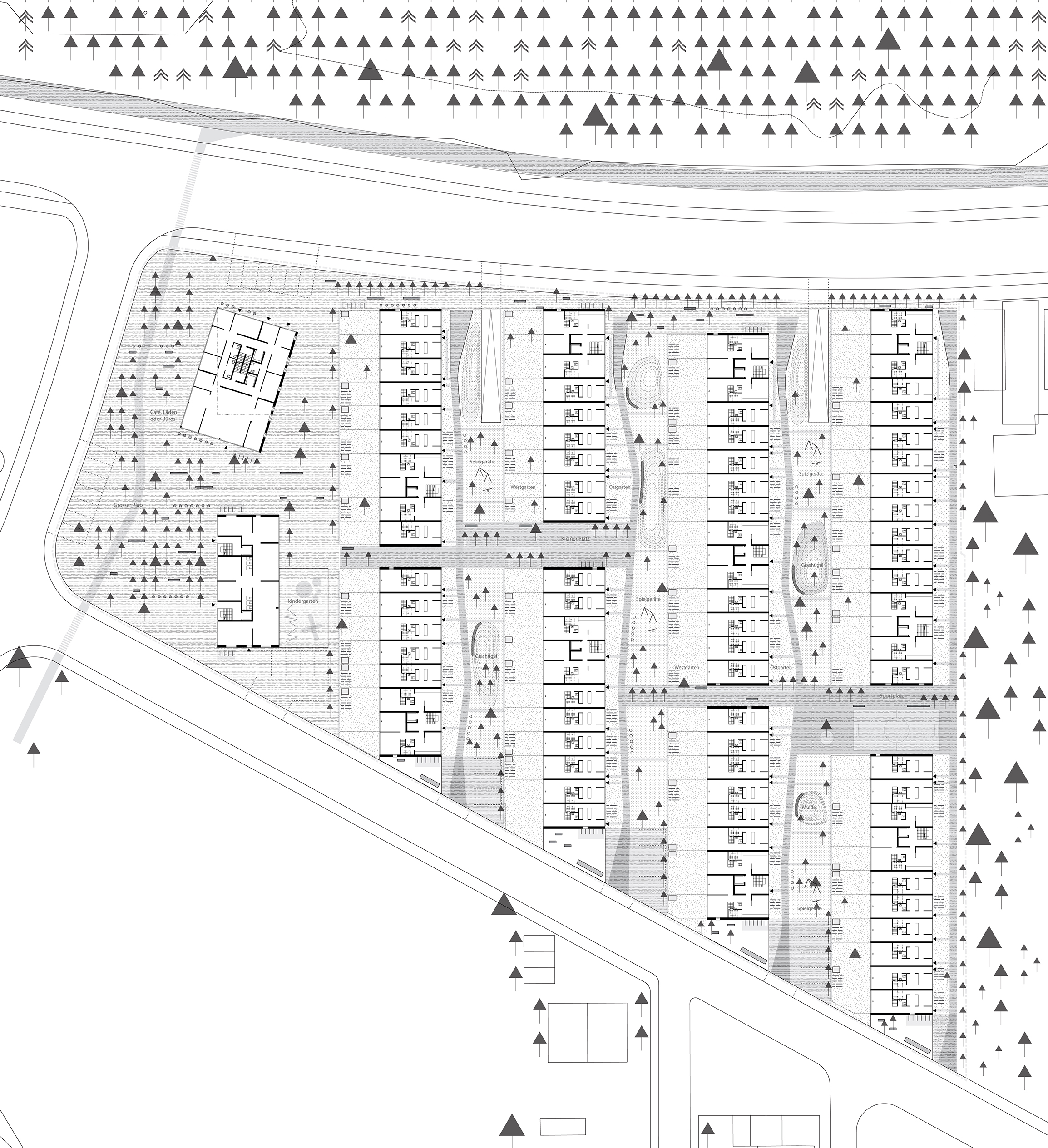 Das Projekt setzt einen Masstab für unterprivilegierte und übersehene Stadtbezirke. Umgeben vor allem von sozialem Wohnungsbau, schafft dieser Vorschlag Räume und ist zugleich durchlässig und einladend für die benachbarten Familien. Er bietet ein großes offenes Netzwerk von Ausseneinrichtungen für Familien, um Zeit miteinander zu verbringen, um zu spielen, zu lesen, Sport zu machen, zu wandern oder einfach nur zum Entspannen. Die Landschaft bildet eine Reihe von Hügeln, Mulden, Gärten und Wäldchen, die sich entlang der Innenhöfe und angrenzenden Häuser reihen, offen in beide Richtungen, zu den angrenzenden Nachbarn und dem Donauwald.
The project creates a benchmark for underserved communities in this area of overlooked importance in the city. Surrounded mostly by social housing, this proposal is porous and welcoming of the neighboring families. It offers a large public network of outdoor zones for families to spend time together playing, reading, sporting, walking or simply relaxing. The landscape forms a series of mounds, grottoes, gardens, and bosques sequenced along the inner courts and adjacent houses —open both to the adjacent neighborhood and to the river's forest.


Das vorgeschlagene Turmhaus macht die Lage an der Donau sichtbar und wird eine neuen Figur der Skyline der Stadt. Im Dialog mit zwei anderen markanten hohen Häusern - dem historischen Neuen Schloss und dem Hochhaus der 60er Jahren südlich der Konrad-Adenauer-Brücke - greift dieser neue Turm das Thema der Donau-Verortung im Stadtgefüge auf.
The proposed tower building marks this territory by adding a new figure to the skyline of the city. In dialogue with two other important elevated structures—the historical New Castle and the modern building from the 60's adjacent to the old bridge, Konrad-Adenauer-Brücke—this new tower adds depth to the city fabric by generating a territorial triangulation