sensing the Danube
die Donau erfühlen
Scent Cabinet (an der Donau)
Pegelhäuschen, Ingolstadt, 2014
Das Duftkabinett wurde entworfen, um den Donautag am 21. Juni zu feiern. Aufgebaut in dem ehemaligen Wasserpegelmesshäuschen der Donau, zelebriert die Installation die verschiedene Düfte des umgebenden Auenwaldes. Diese Düfte wurden von OFICINAA erprobt und hergestellt, bei unterschiedlichen Testversuchen des Kochens, der Destillation und der Essenz-Extraktion. Im Häuschen hängen je zehn Parfümfläschchen und Fundstücke von der Decke, welche die Besucher einladen, die verschiedensten kurzweiligen Gerüche der Auenflächen zu riechen und den botanischen Ursprung zu erkennen. 
Hinter den Extrakten säumt eine sensorische Karte die Wände des Häuschens. Diese Karte wurde mit Messwerten der Luftfeuchtigkeit, Temperatur, des Klanges und der Windgeschwindigkeit erzeugt und zeigt eine Momentaufnahme der sensorischen Feinheiten, die sich vor Ort finden. Zudem zeigt sie das atmosphärische Umfeld des Waldes und das Mikroklima auf, welches die pflanzlichen Zutaten der Ausstellung hervorgebracht hat. Die Oberfläche des Bodens ist gekiest und wenn der Besucher herein kommt, wird seine Aufmerksamkeit sofort gefesselt. Der akustische Klang verändert sich, wie auch der Duftklang des Raumes, bei dem sich die unterschiedlichen Aromen mit den unterschiedlichen Besuchern neu mischen. 
The Scent Cabinet was designed to celebrate the Danube Day, June 21. Installed in the decommissioned gauge station along the Danube, the installation celebrates the various scents of the immediate alluvial forest. These scents were produced and made by OFICINAA while testing various processes of cooking, distillation and extraction of the essence. Inside of the cabinet, ten perfume bottles and specimens hang from the ceiling, inviting visitors to smell the various ephemeral smells of the floodplain and to identify the botanical selection. Behind the essences, a sensory map of the site lines the walls of the cabinet. This map, created with gathered data on humidity, temperature, sound and wind speed, visualizes a snapshot of the sensorial subtleties located on site. Plus, it captures the atmospheric environments of the forest and the micro-climates that generated the botanical ingredients of the exhibition. The surface of the floor is gravel and, as the visitor walks in, there is an immediate arrest of attention. The sound changes as the perception of the various aromas in the air appear to the public. 
Team:
Emily Schlickman, Marisa Angell
Fotos:
Jann Aversweser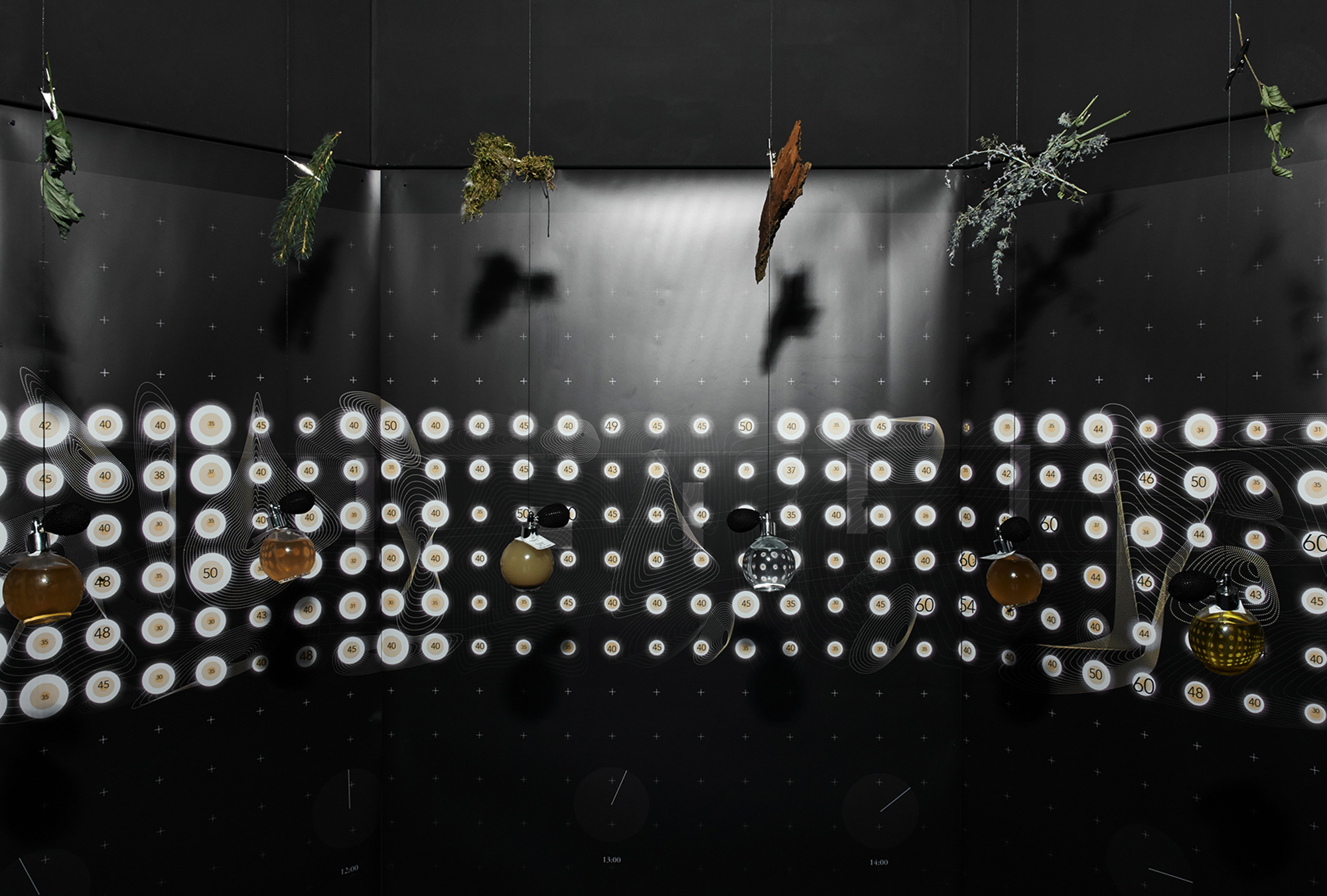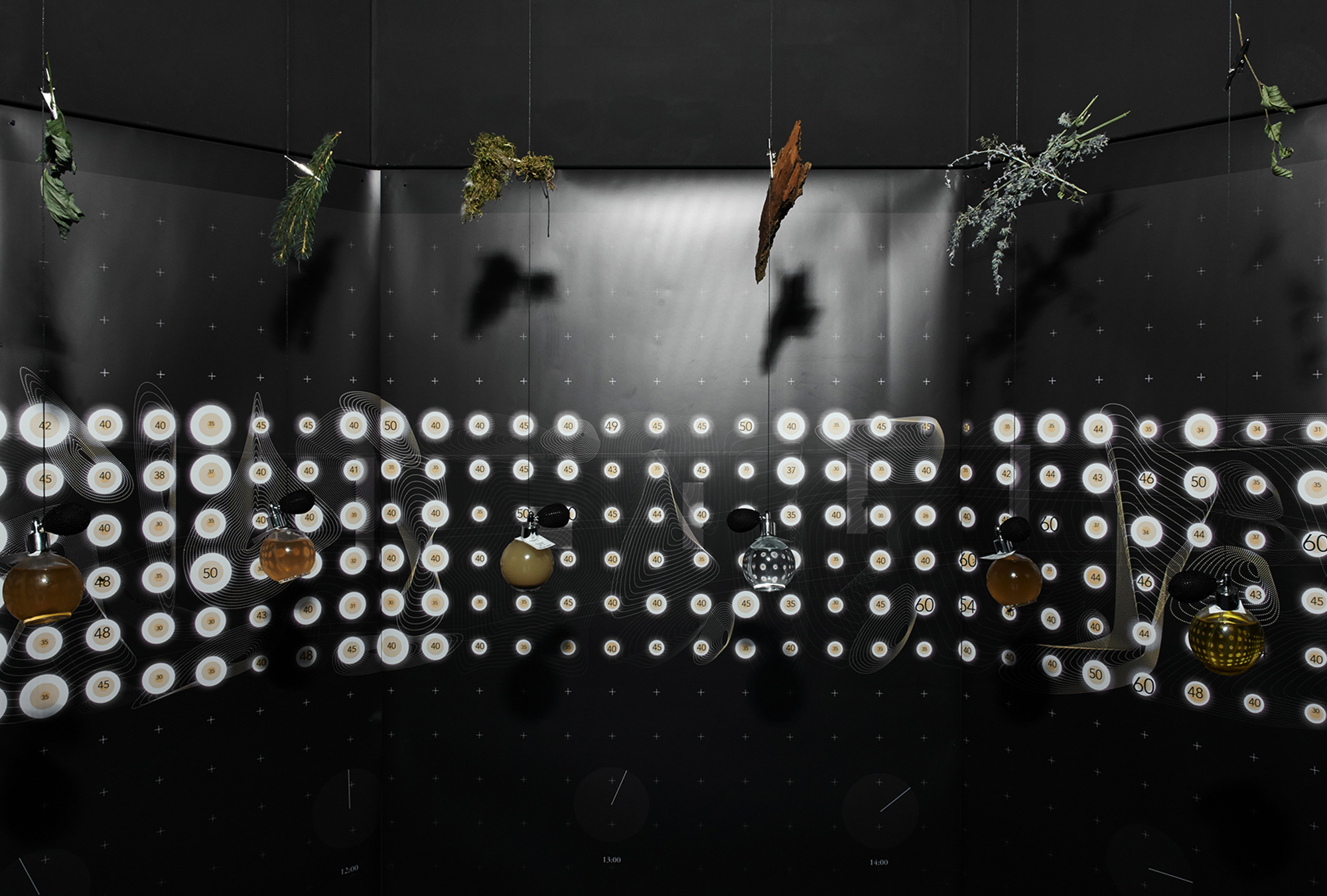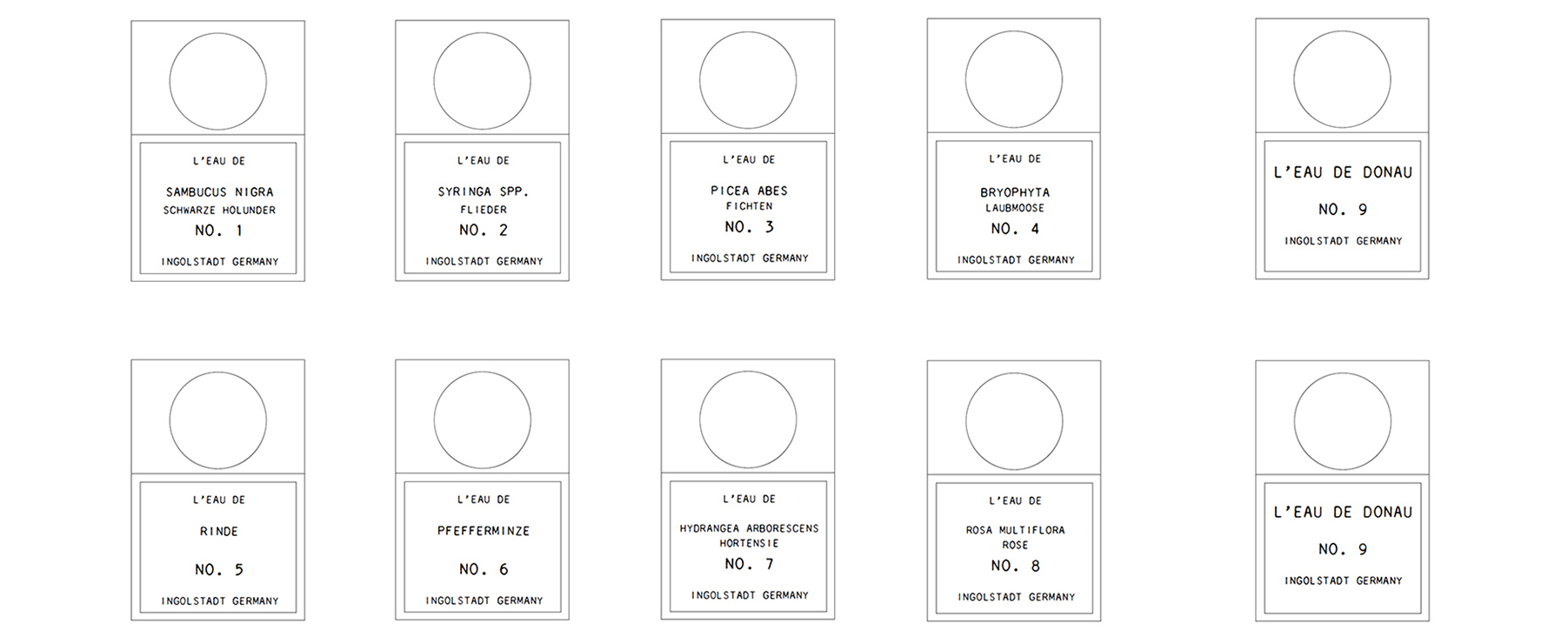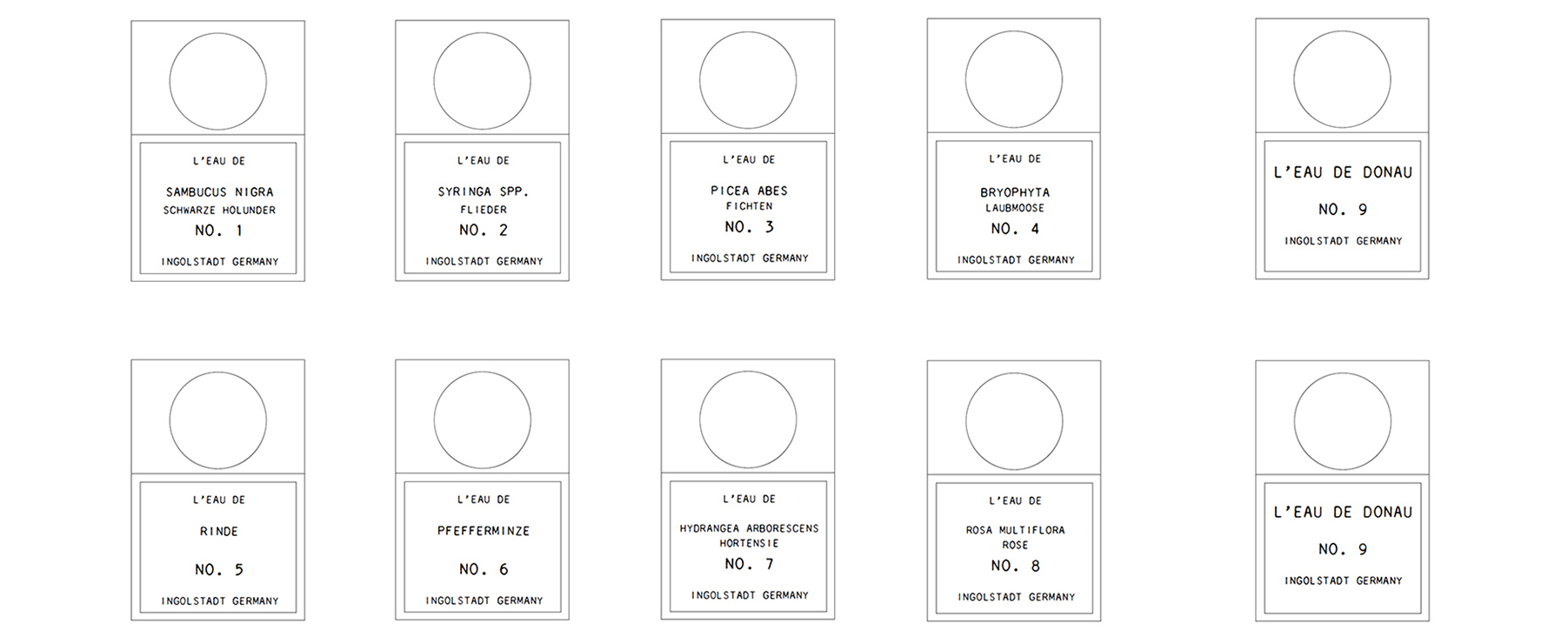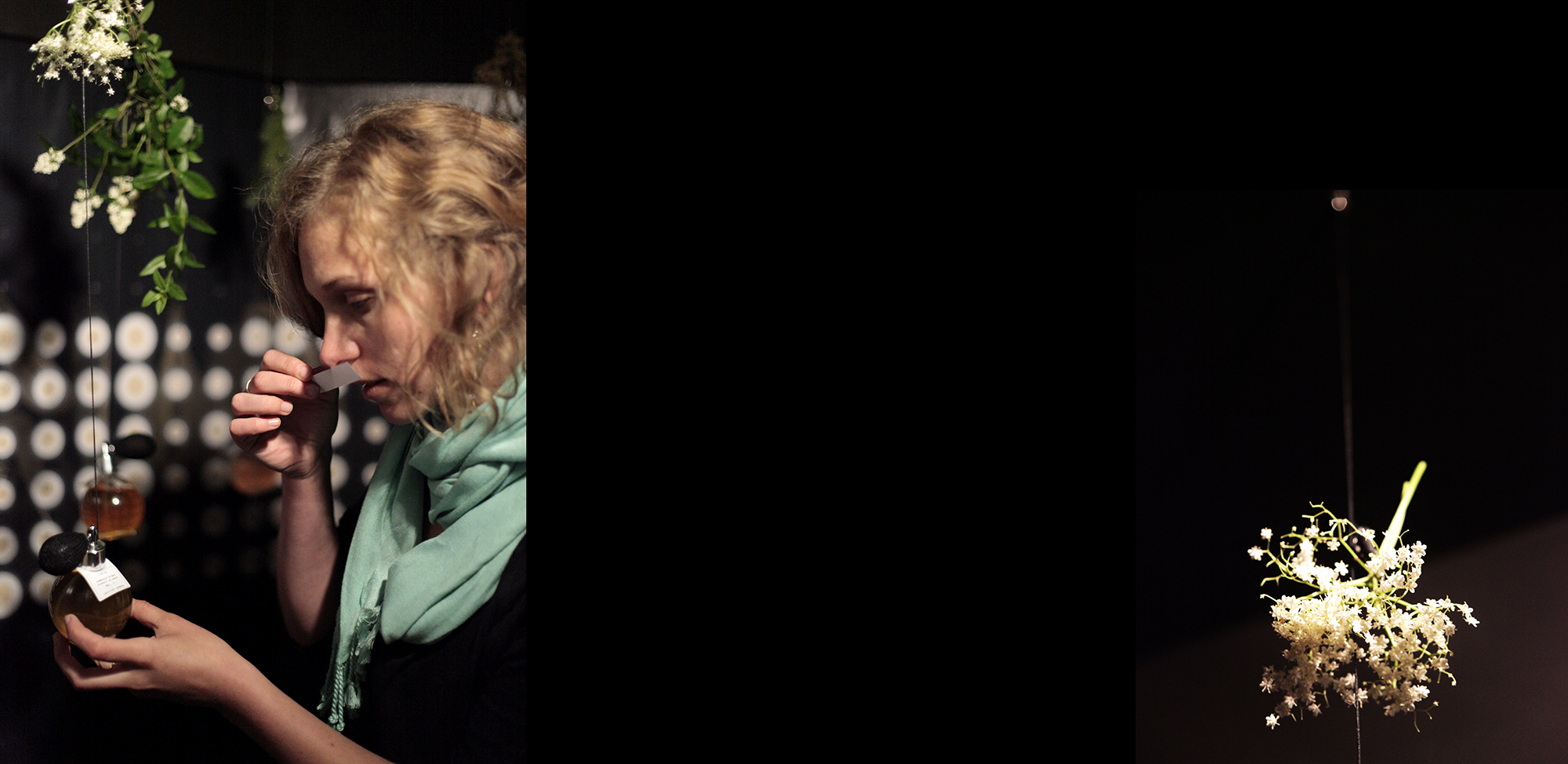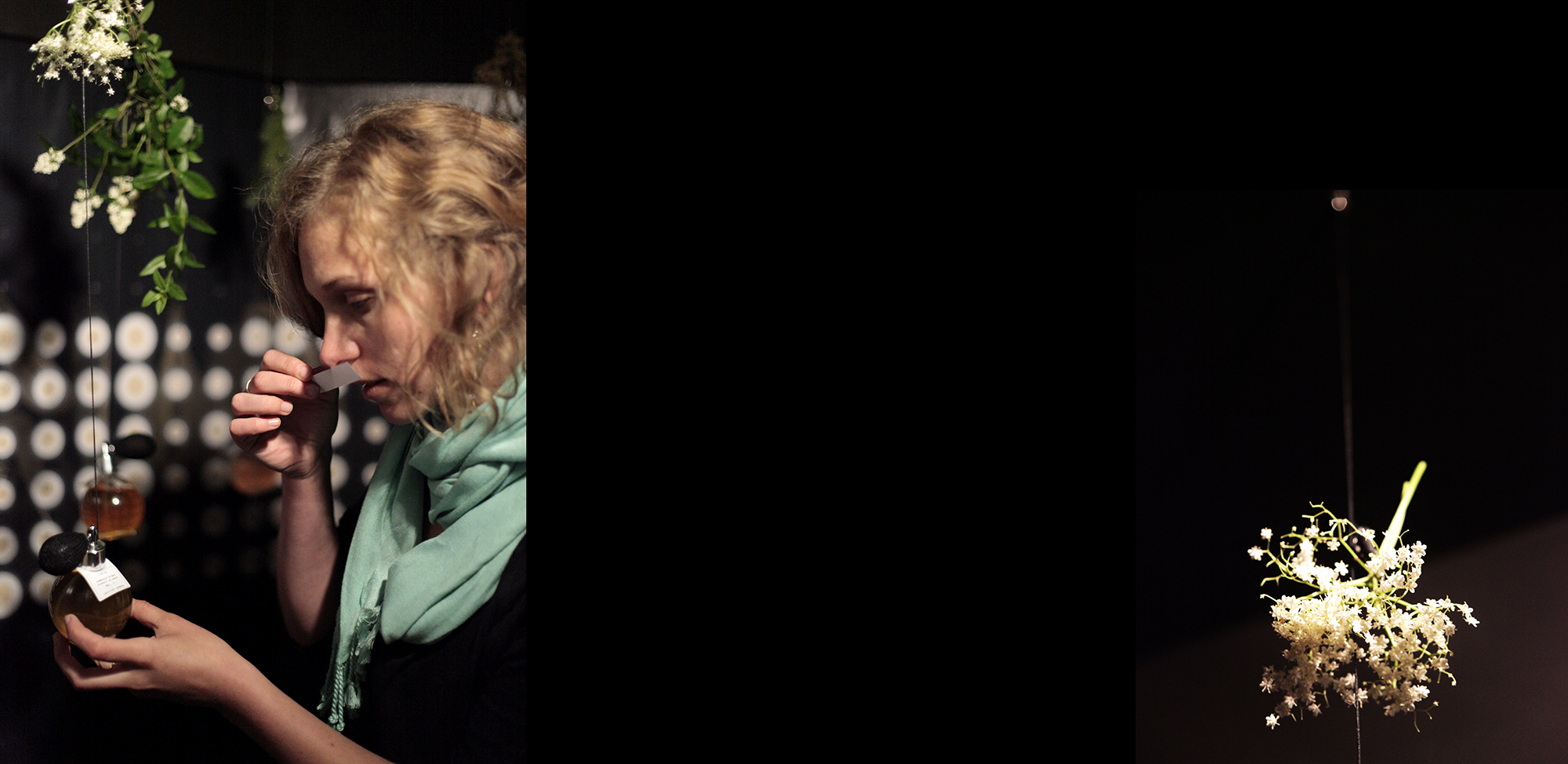 Teil der Kollektion ist auch das "L'eau de Donau", ein Duft welcher aus dem Fluss selbst gemacht ist, verpackt in einem individuellen Flacon, als Geschenk für die Besucher zum mitnehmen.
Included in the collection is a perfume made from the river itself, "L'eau de Donau."
It is packaged in individual glass vials as gifts for the public to take home after the visit.