OFF the pedestal !
Vom Sockel heben !
Talking Memorial
1. Prize, Competition, Freiburg, Germany, 2017

Der deutsch-französische Krieg prägte den Nationalismus und die Nationalstaatlichkeit, verfestigte die Erzfeindschaft zwischen Deutschland und Frankreich und legte den politischen Grundstein für die Kriege des 20. Jahrhunderts. Heute bedarf es eines reflektierter Umgang mit der Geschichte, ein "Ent-Heroisierung" und Kontextualisierung.
Krieg und Sieg vom Sockel gehoben !
Ohne die Überhöhung des Denkmals wird den die Bronzeskulpturen erlebbar: Menschen die im Krieg waren. Der künstlerische Wert und die Geschichte werden unmittelbar. Der Granitsockel wird als Stadtmöbel nutzbar.
Aus der Entrücktheit der Repräsentation nationalstaatlicher und monarchischer Staatsgewalt entsteht so europäische Verständigung und Geschichte wird gegenwärtig individuell erlebbar.
The Franco-Prussian War (1870/1) coined nations and nationalism an in Central Europe and hardened the archenemies France and Germany and thereby layed the foundation for the large wars of the 20th century. Today a reverberated way of dealing with this history is inevitable, de-heroizing war and victory while contextualizing the past today.
War and Victory off the Pedestal !
No longer raised off the ground the individual bronze sculptures of the landmark can be experienced: soldiers that went to a war. History and artistic value become immediate, while the granite pedestal serves as urban furniture.
The historic "victory memorial" is turned into cultural reflection and understanding experienced on the every day wait for the local tram.
Team:
Nicholas Jungblut-Knutsson, Alexander Häusler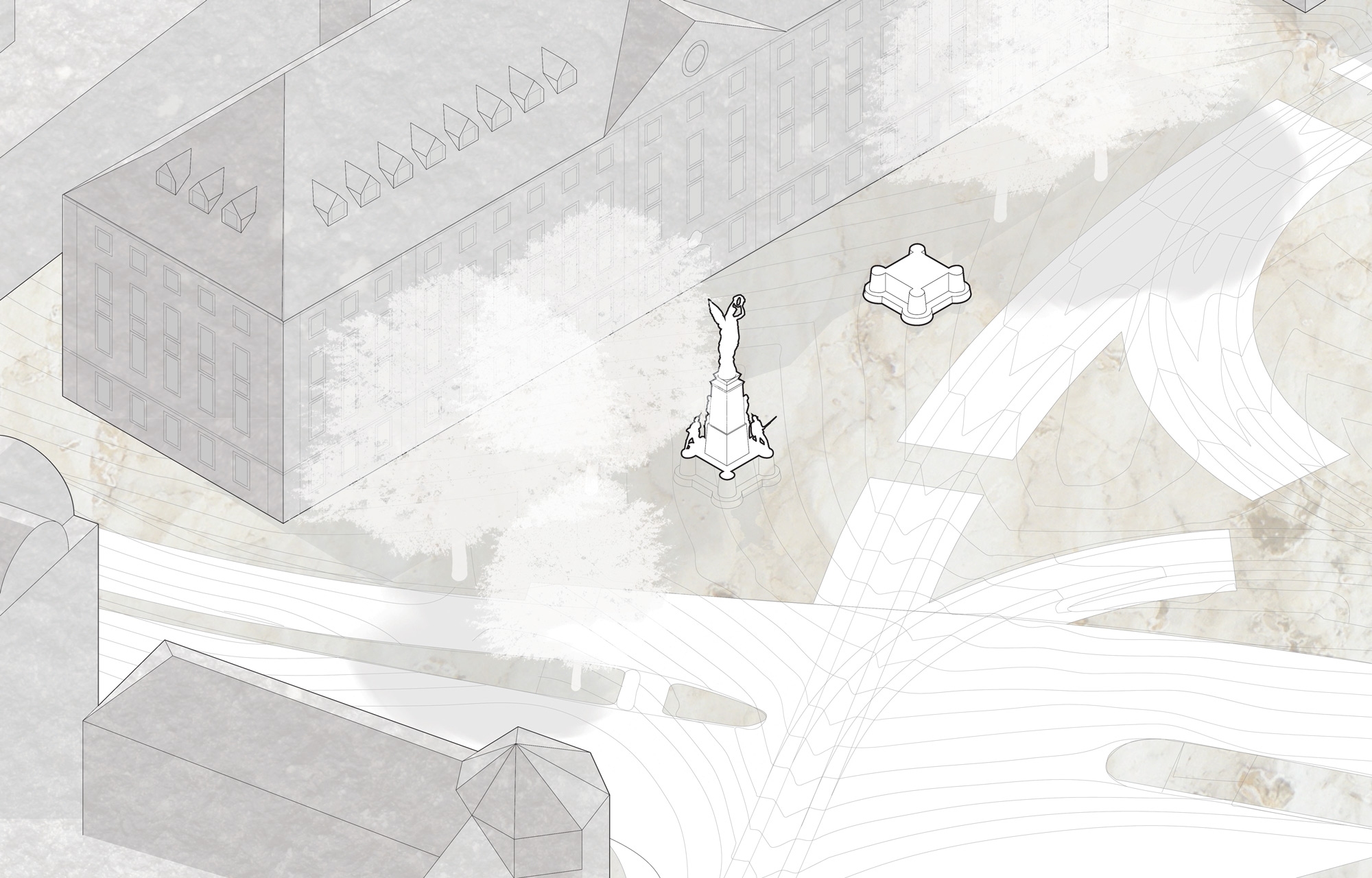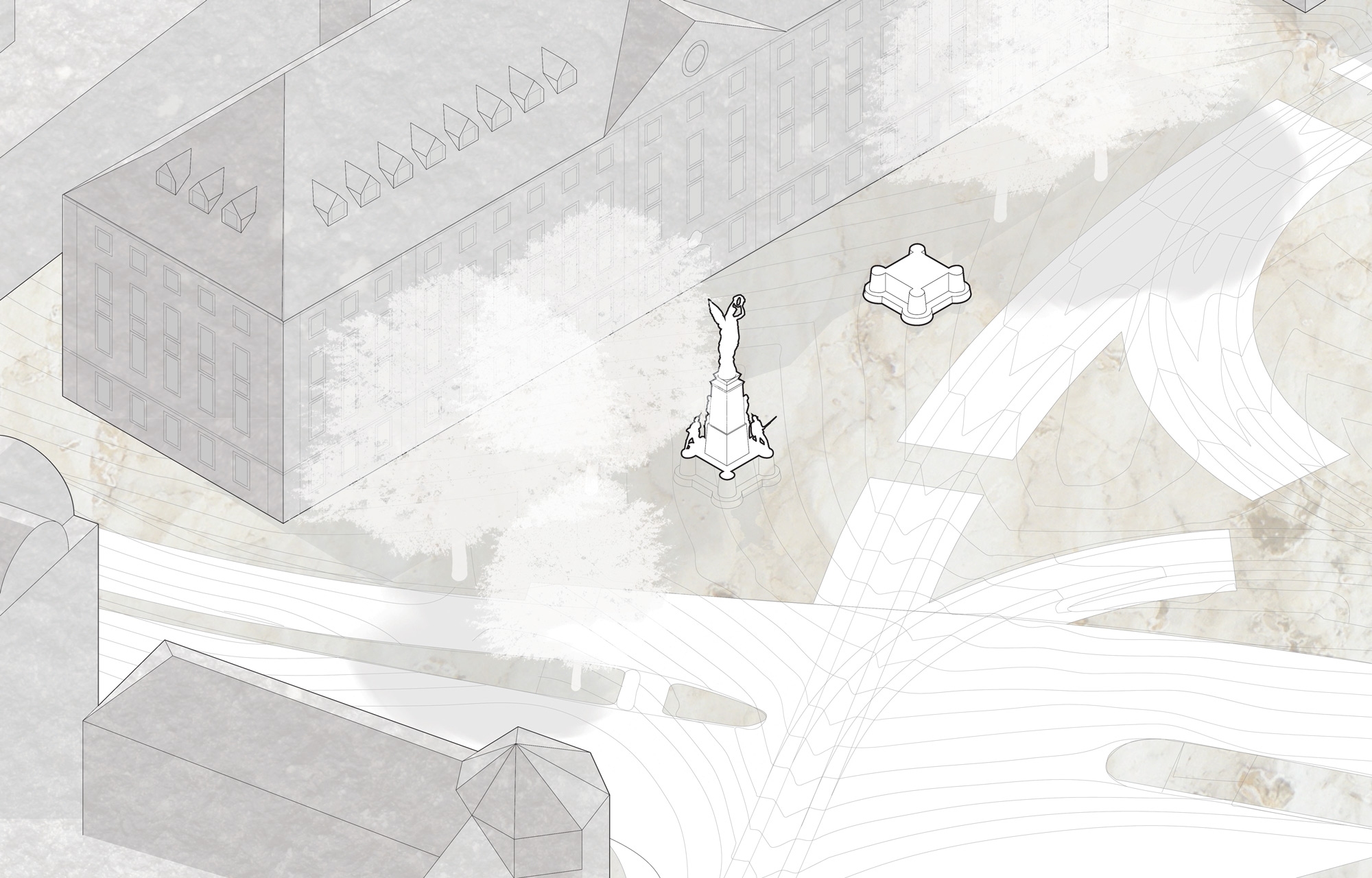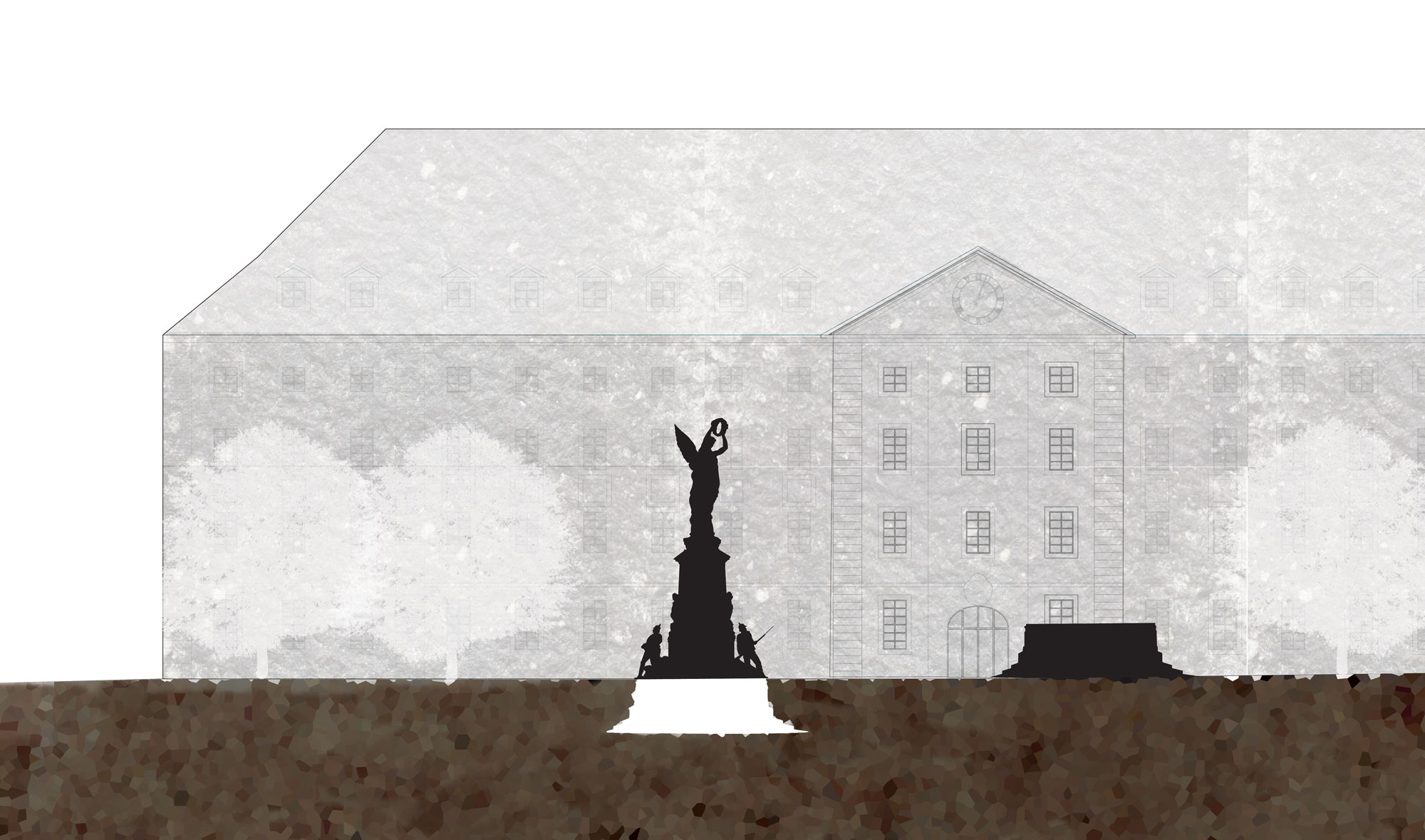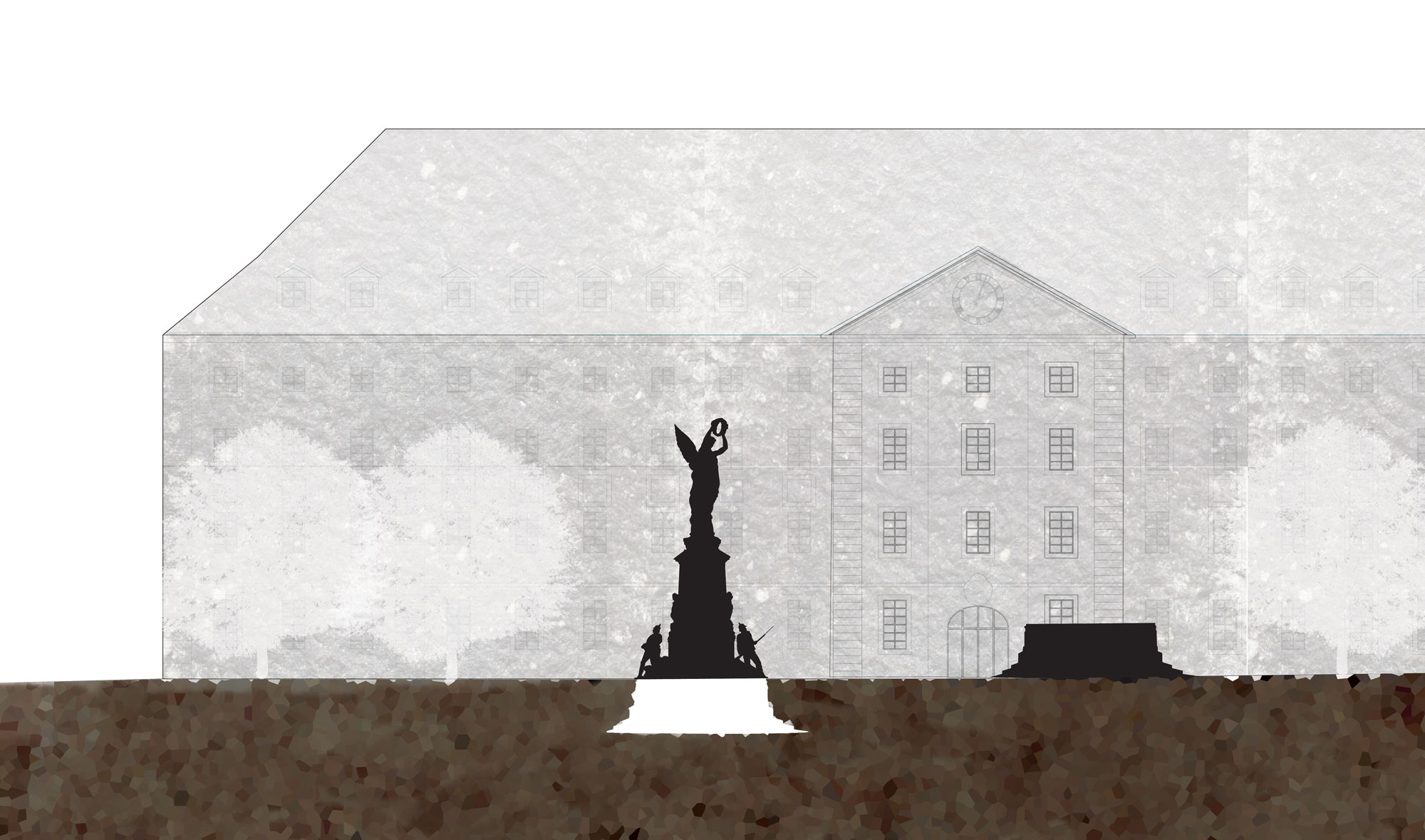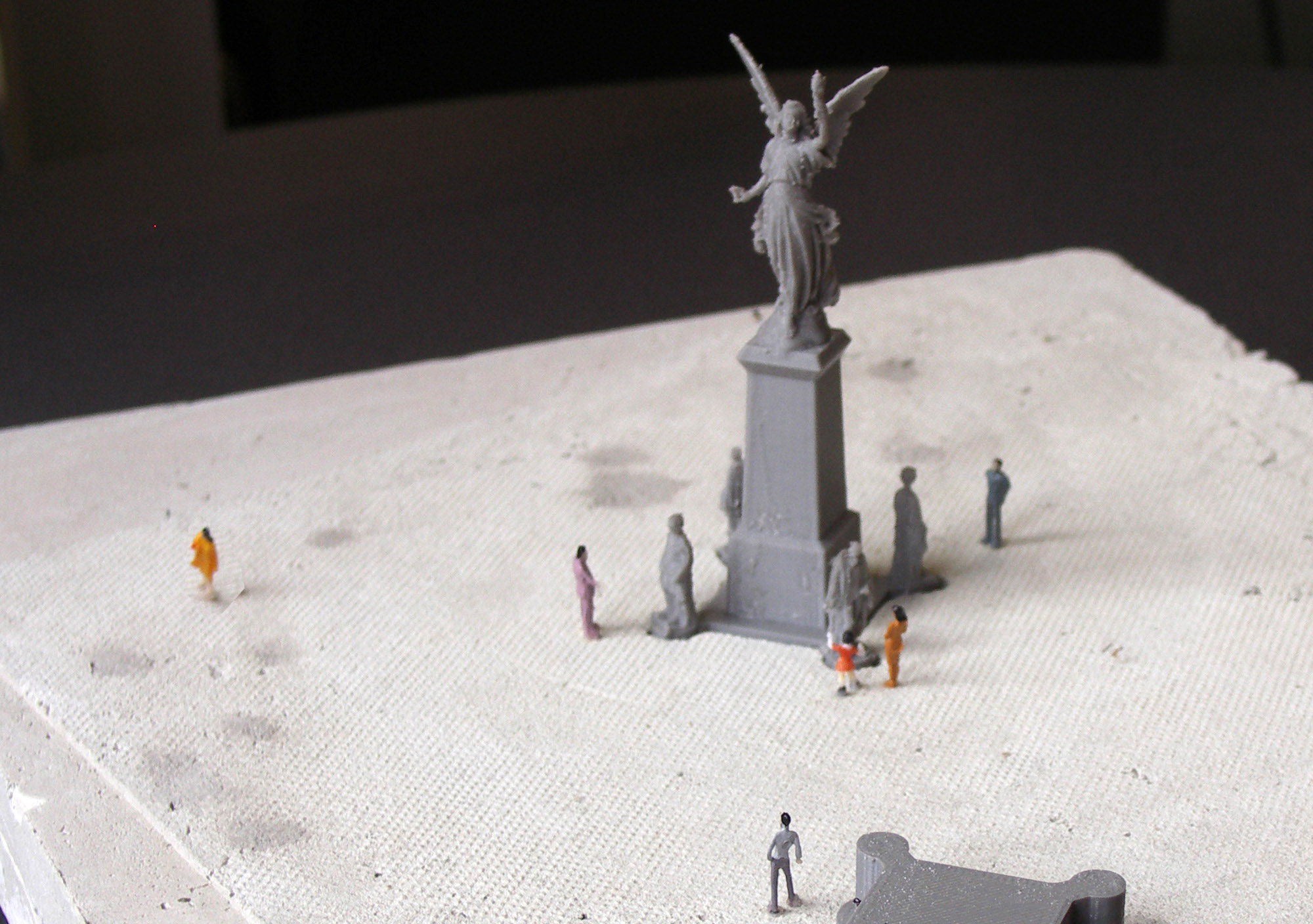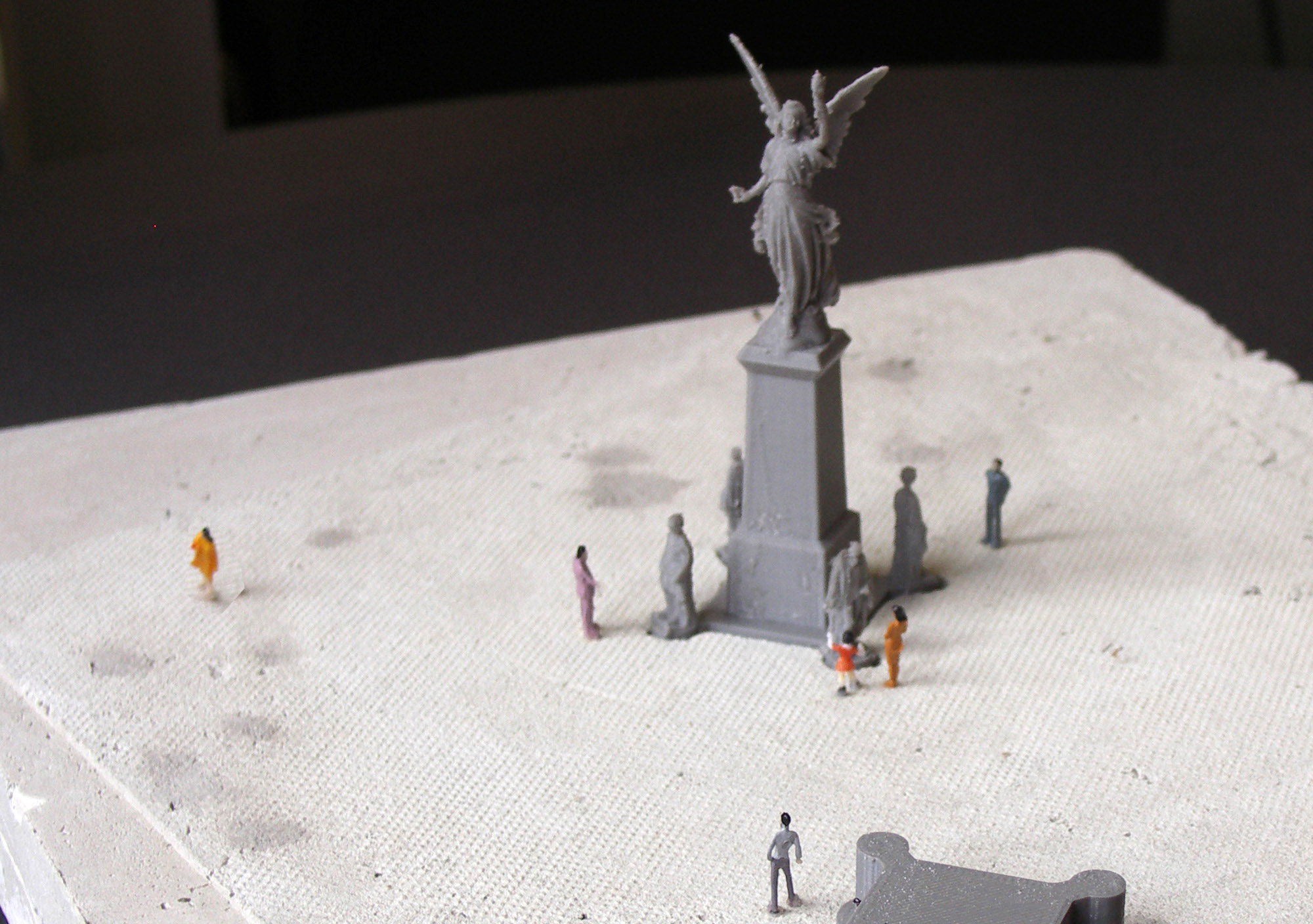 Die Niederlage Frankreichs war in der französischen Literatur ein Aufbruch der Reflektion des Individuums und der Beginn der Moderne. Arthur Rimbaud, Guy de Montpassant, Emile Zola und Victor Hugo schreiben über den Krieg und den Erfahrungen der Menschen.
Die Soldaten auf den Erdboden gebracht werden Sie zu einem Gegenüber für die Passanten, das unmittelbar wahrgenommen und erlebbar wird. Im Helm sind Lautsprecher platziert, welche Gedichte und Passagen aus der nach dem Krieg entstandenen französischen Literatur aus der Ich-Perspektive erzählen; auf Französisch und auf Deutsch.
The trauma of defeat was a departure in reflecting the individual for French literature on the brink of modernism. Arthur Rimbaud, Guy de Montpassant, Emile Zola and Victor Hugo wrote about the war and the individual experiences.
Brought to the ground the soldiers become an equal other that start to talk to the passer-byes. The helmets have speakers integrated that recite French poems and passages of literature telling of this in original French and translated into German.